UTSA community invited to join UTSA team for Komen Race for the Cure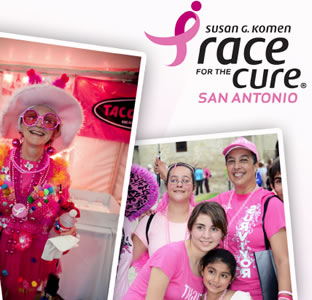 Share this Story
(April 16, 2012) -- UTSA community members are invited to participate in the Susan G. Komen Race for the Cure San Antonio on Saturday, May 12 at the Alamodome parking lot C. The event runs 7:30-9:30 a.m. with registration beginning at 6 a.m.
>> To join the UTSA team, go the Rowdy Racers website. The team will be a combination of wellness enrollees, faculty, staff, students, family and friends. Join the team by Friday, April 27 and receive a "Rowdy Racer" team shirt.
Anyone can sign up with the team to represent UTSA and to support cancer survivors from UTSA and Rowdy New U.
For more information, contact Georgina Anguiano-Elliott (team captain) at 210-4589-4253 or Kristee Phelps (wellness coordinator) at 210-458-6102.
-------------------------------
Instructions to join Rowdy Racers
A the website, click "Join Rowdy Racers."
Select your option for participating and click "Next Step."
Select "New User" or "Returning User."
Fill out the registration form then click "Next Step."
Check the waiver and click "Next Step."
Fill out billing information and pay.