Twin brothers represent UTSA at Clinton Global Initiative University in Washington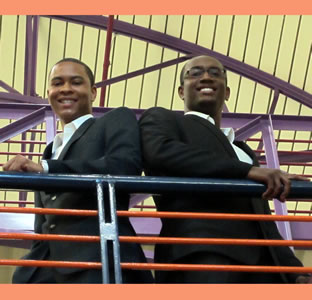 Share this Story
(April 20, 2012) -- UTSA juniors and twin brothers Travis Merriweather and Rustein Merriweather were selected to attend this year's Clinton Global Initiative in Washington, D.C. Their proposal submitted for the conference focused on creating sustainable initiatives at The University of Texas at San Antonio.
This included establishing a farmers market to help reduce the miles food travels and encourage increased eating of organic foods. Another proposed initiative was a green design expo where campus engineers, architects and student teams would present their ecological inventions and designs to be used on campus.
In 2007, President Bill Clinton launched the Clinton Global Initiative University, a program that brings college students together to discuss social issues that have an impact on the world. Each year, CGI U hosts a meeting where students, national youth organizations, topic experts and celebrities discuss solutions to pressing global issues.
CGI U 2012 was March 30-April 1 at George Washington University in Washington, D.C. At the meeting, nearly 1,200 students assembled to make a difference in CGI U's five focus areas: education, environment and climate change, peace and human rights, poverty alleviation, and public health.
The Merriweather brothers applied to CGI to gain a better understanding of major issues impacting the world and to network with students from around the world who also wanted to create positive change within their communities.
"As the first UTSA participants in CGI, we were humbled by the opportunity to attend, not only for myself and my brother, but to be representing UTSA as well," said Rustein. "Our acceptance to the conference will give hope to other UTSA students to apply in the future."
"[The initiative] gave us ideas, tools and contacts to bring back to UTSA that will further assist us in creating a more sustainable campus, as well as learning from other peers on issues affecting their communities," added Travis.
Both brothers aspire to careers in music, and want to continue exploring new avenues of involvement within the community.
A generous gift from the Valero Energy Foundation to the UTSA Student Leadership Center made it possible for the Merriweather brothers to attend the Clinton Global Initiative this year.