UTSA administrative staff honored after completing training series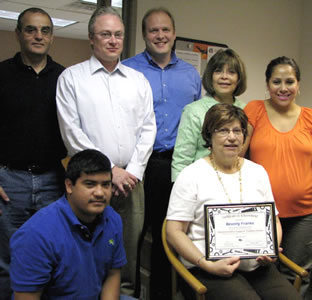 Share this Story
(May 18, 2012) --- (May 18, 2012) -- UTSA administrative professionals who participated in the Administrative Support Toolbox training series offered by the UTSA HR Training and Development department attended an annual celebration April 25 with the theme, "Followed the Yellow Brick Road."
At the sixth annual event, 32 administrative staff were recognized who completed five courses representing more than 17 classroom training hours. The celebration coincided with National Administrative Professionals Day, which annually recognizes the vital contributions of administrative professionals throughout the United States.
The "Wizard of Oz"-themed celebration included Dorothy, Scarecrow, Tin Man and Lion with special refreshments such as Ding Dong cupcakes (""ding dong the witch is dead"), rainbow fruit kabobs, magic-wand pretzels, a brains-heart-courage activity, a vocal performance by UTSA sophomores Aaron Osmer and Nick Schneider, along with music, movies, gifts, door prizes and more.
>> View a video from the event.
The program included certificates of achievement and special gifts for the 32 UTSA staff members who completed the training program. The graduates are listed with their respective departments:
Jan Barnett, VP for Research
Bridget Baumgardner, TRIO Program, P-20 Initiatives
Teri Bieterman, VP for Research
Daniela Borton, TRIO Program, P-20 Initiatives
Laura Brown, Department of Biology
Fiorenza Bruni, College of Sciences, Office of the Dean
Jo Anna Caballero, College of Business, Academic Advising
Sylvia Castillo, Institute for Economic Development
Marta De Luna, College of Sciences, Office of the Dean
Jennifer Decuir, Housing and Residence Life
Jeanette Francovich, Admissions
Beverly Franke, Department of Educational Psychology
Christina Gonzales, Center for Research and Training in the Sciences
Marina Gonzalez, Department of Psychology
Sylvia Hernandez, Department of Bicultural Bilingual Studies
Brenda Huitt, College of Education and Human Development
Cecilia Jaquez, Academy for Teacher Excellence
Teresa Maillard, Department of Counseling
Melonie Martinez, Institute of Texan Cultures, Office of the Director
Diana Mendoza, Office of the President
Tracy Merritt, Emergency Management, Police Department
Rachel Morrel, Business Auxiliary Services
Anna Paccione, Campus Recreation
Dasa Ortiz, UTSA Libraries, Office of the Dean
Ruth Reitmeyer, Center for Policy Studies
Mary Riedel, Academy for Teacher Excellence
Sylvia Ruiz, Facilities Operations and Maintenance
Colleen Snodgrass, Office of the Registrar
Suzanne Tanaka, Institute for Cyber Security
Venetta Williams, College of Architecture
Nancy Woodward, Environmental Health, Safety and Risk Management
Penny Wuebben, Intercollegiate Athletics
------------------------------
The Administrative Support Toolbox Series consists of five courses plus an orientation session that focus on key functional areas carried out by UTSA administrative staff. The courses provide a high-level overview of the functions, services and resources of each area. Subject matter experts present important and useful information to class participants. The five-course series runs on a continual six-month cycle with one class offered monthly. This allows administrative professionals to attend class when schedules permit and to complete the series according to their own timelines. Because class information is updated each time it is presented, graduates are encouraged to attend class as a refresher to stay up to date.
The Administrative Support Toolbox Series will present an orientation class May 22 and begin the five-course rotation in June.
Orientation (SD 228), May 22
Financial Processing (SD 239), June 27
Communications and Marketing (SD 238), July 25
Look for these class dates in the fall: Supervisory Skills (SD 241), Academic and Student Processing (SD 245) and Human Resources Processing (SD 240)
For more information and to register for classes, visit the UTSA MyTraining website or contact Training and Development at 210-458-4658.