UTSA student places 2nd in national humanity in ethics essay contest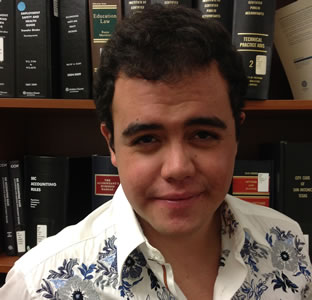 Share this Story
(May 24, 2012) -- Victor Hugo Hernandez-Jayme, a junior UTSA English and business double major, received the second-place award in the 22nd annual Elie Wiesel Foundation for Humanity Prize in Ethics essay contest.
The Elie Wiesel Prize in Ethics is an annual competition that challenges college students in the United States to submit essays on the urgent ethical issues that confront us in today's complex world.
"Today's college students are listening to the ethical voices within. They are drawing on their memories and the lessons of their teachers, and are concerned with the morality of their private and public experiences. They are challenging us all to make a difference," said Elie Wiesel, the 1986 winner of the Nobel Prize for Peace, in a recent press release.
In the fall, Hernandez-Jayme will travel to New York City to receive his prize and meet Wiesel.
Hernandez-Jayme's essay, "The Uniformed Merchants of Death," explored the role of consumer ethics in the war on drugs and the war on drugs in Mexico.
"I feel very happy because the prize itself has given me the opportunity to voice a concern which I think is important to shed some light on," said Hernandez-Jayme. "Our purchasing power is the most direct tool to trigger change, and it should not only be used to foster development, it should first be used to prevent suffering."
A native of Torreon, Mexico, Victor came to UTSA with his family's blessing after a climate of crime caused him to change plans to pursue higher education in Mexico.
"I chose UTSA because I had a large group of friends from all over Mexico coming here or to other parts of Texas," said Hernandez-Jayme.
Hernandez-Jayme's father runs a television station in Torreon and received the Mexican National Prize in Journalism as a foreign correspondent for "60 Minutes" in Mexico.
The 21-year-old junior used to write in Mexico but found that when he came to UTSA he had trouble with American grammar. His writing skills advanced significantly and he credits the UTSA Writing Center with aiding him in his turnaround.
"One of my most defining experiences has been serving as one of the editors for Paisano, the UTSA student newspaper. It has been a very thrilling educational opportunity, getting to know the people and learning new things in a work environment."
He hopes to start a new organization called AMIGOS (American and Mexican Initiative for Global Objectives to Our Society). The organization would create awareness for American drug consumers of the harmful social effects the drug user creates through drug consumption.