UTSA May 9 rally calls attention to importance of youth mental health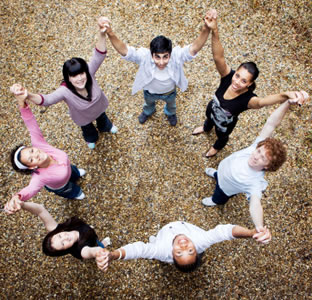 Share this Story
(May 9, 2012) -- On Wednesday, May 9, the UTSA College of Public Policy and San Antonio-based Center for Health Care Services will host a rally to emphasize the importance of helping children and teens work through traumatic experiences to improve their mental health. Free and open to the public, the event will feature educational resources, speakers and family activities.
>> The UTSA Children's Mental Health Awareness Day rally will be 4-6:30 p.m., Wednesday, May 9 at Bill Miller Plaza on the UTSA Downtown Campus. Free parking will be available in lot D3 under Interstate 35.
National Children's Mental Health Awareness Day is a key component of the Caring for Every Child's Mental Health campaign, which is part of the Public Awareness and Support Strategic Initiative by the Substance Abuse and Mental Health Services Administration (SAMHSA) housed in the U.S. Department of Health and Human Services. SAMHSA began organizing the event in 1994 to stimulate support for a comprehensive system of care approach to children's mental health services. UTSA's event is one of many mental health forums that will be staged May 9 across Texas and the United States.
Statistics offered by SAMHSA reveal the prevalence of trauma in the lives of children and the effect on their mental health. For example:
Thirty-nine percent of 12- to 17-year-old youths report witnessing violence. Seventeen percent report physical assault and 8 percent report a lifetime prevalence of sexual assault.
More than 35 percent of children exposed to a single traumatic event will develop serious mental health problems. Young children exposed to five or more significant adversities in the first three years of childhood face a 76 percent likelihood of having one or more delays in their cognitive, language or emotional development.
Children and youths who experience trauma display increases in stress hormones comparable to those displayed in combat veterans. Consequences include mood regulation, dissociation, self-concept challenges, and behavioral, cognition and biological changes, all of which can have a negative impact on school attendance, learning and academic achievement.
In 2009, researchers found that more than 60 percent of surveyed youth age 17 and younger had been exposed to crime, violence and abuse either directly or indirectly including witnessing a violent act, assault with a weapon, sexual victimization, child maltreatment and dating violence.
Studies of the brain show that physical, emotional or sexual abuse in childhood can cause permanent damage to the brain, reduce the size of parts of the brain, impact the way a child's brain copes with daily stress, and result in enduring problems such as depression, anxiety, aggression, impulsiveness, delinquency, hyperactivity and substance abuse.
According to the Department of State Health Services (DSHS), there are approximately 164,724 children in Texas with severe emotional disorders but only 46,080 receive services; only 29.1 percent of the need is met. The Center for Health Care Services (CHCS), the local mental health authority, currently serves 1,123 children and adolescents in Bexar County. This highlights the need for more awareness of the issue for both the public and lawmakers so that more services can be provided to this population with adequate resources being allocated.
"Children and youth with emotional and behavioral challenges and their families need an array of services to function in the community," said Maureen Rubin, assistant professor in the UTSA Department of Social Work. "Developing a system of care to provide coordinated services that is youth and family driven will help in the recovery process."
To learn more about the UTSA mental health rally, contact UTSA Professor Maureen Rubin at 210-458-2922.