Students benefit from African American Literatures and Cultures Institute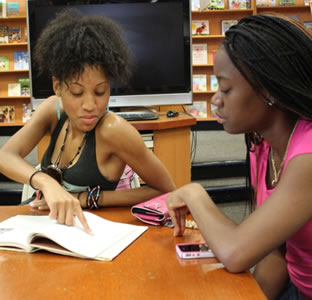 Share this Story
(Sept. 5, 2012) -- The third annual African American Literatures and Cultures Institute (AALCI) recently wrapped up for the summer with eight of the nation's top undergraduate African American literary studies majors completing the three-week program.
AALCI was established in January 2010 with funding provided by Joycelyn Moody, the UTSA Sue E. Denman Distinguished Chair in American Literature. The institute selects eight applicants annually and provides them with $2,000 research stipends, rigorous mentoring, innovative academic training and encouragement to pursue academic careers in English and African American literary studies.
The final week of the program is an emotional one with students traveling to New York City for a closer look at some of the issues they had discussed.
"They are all such amazing experiences visiting the sites of black history and culture that they have been reading about," said Moody. "We go to the ancient African installation at the Brooklyn Museum and the Schomburg Library, which is devoted to African American history in the country."
Participants in the institute discussed the works of African American scholars and met various authors, art collectors and educators to assist them in making their way through the graduate school processes.
"We talked a lot about technology -- how you study history using technology," said Howard Rambsy II, professor of literature and director of the black studies program at Southern Illinois University in Edwardsville. "We also looked at issues of black studies with African American perspectives and how they played out in contemporary culture -- migration major trends such as where a large number of African Americans are living today as opposed to where they come from."
"There is no one at home that I can look to for advice if I wanted to pursue a higher degree in education", said Ashley Greenlee, a senior at Southern Illinois-Edwardsville. "Here, we have people pushing us to succeed so we can go back home and spread the word and encourage others to complete their college degrees."
To learn more, contact Joycelyn Moody at 210-458-6857 or visit the AALCI website.