Startech offers New Venture Forum Lite series to UTSA students and alumni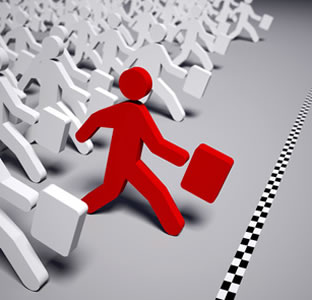 Share this Story
By Michael Spenn
Marketing Specialist, Startech
(Oct. 30, 2012) -- The Startech Foundation announces New Venture Forum Lite, a new series that gives UTSA students and alumni the information they need to determine if the path to entrepreneurship is a fit for them and to learn about the steps necessary to become a successful entrepreneur. The series is free for UTSA students and alumni.
New Venture Forum Lite is an introductory, three-session prequel to the full 10-session format of the New Venture Forum, a popular series that provides startup technology companies with the basic knowledge and skills needed to improve their chances of receiving equity funding.
"UTSA students who are exploring the possibility of becoming entrepreneurs should take advantage of this fantastic opportunity to gain the real-world perspective of entrepreneurship experts outside of the classroom," said Anita Leffel, assistant director of the UTSA Center for Innovation and Technology Entrepreneurship (CITE).
New Venture Forum Lite will be 1:30 p.m.-3 p.m., Nov. 13, Nov. 27 and Dec. 4 at the Roadrunner Incubator in Business Building Room 3.02.26 on the UTSA Main Campus. The forum is a workshop with dialogue between experts and potential entrepreneurs.
The three topics of New Venture Forum Lite will be:
So, you want to be an entrepreneur?
Where does the money come from to get started? and
Do I really need a business plan?
New Venture Forum Lite is sponsored by the Startech Foundation and is in collaboration with CITE. Students who complete all three sessions can participate in a directed research credit program in the spring semester that involves attending the full 10-session format of the New Venture Forum.
>> To enroll or for more information, contact Startech at 210-458-2713 or ea@startech1.org or Anita Leffel at 210-458-2505.
------------------------------
The Startech Foundation is a private nonprofit 501(c)(3) Texas corporation that exists to inspire technology innovation and commercialization, create technology companies and grow them into viable businesses in the South Texas economy. Startech offers venture innovation, investment and collaborative services for entrepreneurs, investors, researchers, service providers and partners interested in innovation and commercialization.
Startech works closely with several funding sources including the South Texas Angel Network, Texas Emerging Technology Fund, Venture Capital, SBIR and STTR grants, Microsoft BizSpark, and many others. From 2003 to 2011, Startech portfolio clients raised more than $261 million in external financing.