UTSA sociology honor society raises $1,057 for local refugee children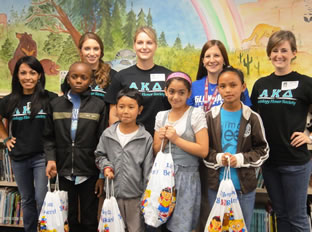 Share this Story
By Kevin Femmel
Student Writer, Office of University Communications
(Oct. 24, 2012) -- Over the summer, the UTSA chapter of Alpha Kappa Delta Alpha Xi, a sociology honor society, raised $1,057 for refugee children in need of basic supplies for the school year. They teamed up with Northside Independent School District Elementary Specialist Marci Barrientos to raise funds to purchase clothing and other items for refugee students at local elementary schools such as Colonies North and Glen Oaks.
Money was raised through online donations from fellow students, faculty, family and friends during the second summer session. Ultimately, the $1,057 raised led to the purchase of 105 pairs of pants, 18 belts, 115 shirts, 29 packages of socks, 48 packages of underwear, 75 tooth brushes and 75 tubes of toothpaste.
On Friday, Oct. 12, the honors organization delivered the items to the principals and children at Colonies North Elementary.
Colonies North is home to a large number of refugee children who have a hard time acquiring clothes and other supplies for school. Colonies North Principal Kris Cotton was pleased with the results of the Alpha Kappa Delta fundraising saying, "It was a wonderful fund raiser. Our ESL students will greatly appreciate the new clothes."
"Many of the children live in apartments where quarters are needed to wash their clothing. They don't have many clothes, and sometimes they may need to wear clothes that are dirty to school," said Cotton.
She noted that if they notice a trend in the children's clothing being dirty, they will "give the students other clothes to wear while we wash their clothes." Colonies North has a washer and dryer on campus that can be used to accommodate the refugee students, as needed.
More than 5,000 refugees currently reside in San Antonio. Refugee children have been relocated in San Antonio from countries including Iraq, Burundi, Nepal and Myanmar. In order to be given asylum and classified as refugees, these families had to leave their home countries and then prove that they feared for their lives and were under persecution.
Raquel Marquez, professor in the UTSA Department of Sociology praised the efforts of Alpha Kappa Delta-Alpha Xi students in raising money for the refugees.
"We're very proud of our students; they really took this request seriously," said Marquez. "They spent the whole summer fundraising."
For more information, email AKDalphaxi@gmail.com or visit the Alpha Kappa Delta website.