UTSA engineering students host Monster Mash Pumpkin Smash Nov. 11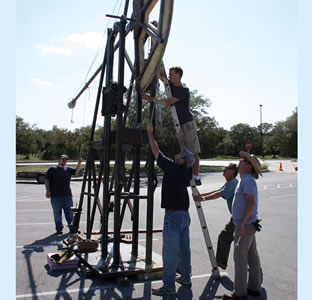 Share this Story
By Ryan Schoensee
Special Projects Writer, Office of University Communications
(Nov. 7, 2012) -- The UTSA College of Engineering (COE), the COE Student Council and the UTSA Office of P-20 Initiatives will host the first STEM Fest from 9 a.m. to 5 p.m., Sunday, Nov. 11 at the East Campus Lot at the UTSA Main Campus. STEM includes science, technology, engineering and mathematics. The event is free and open to the public.
The College of Engineering STEM Fest will include activities such as the Monster Mash Pumpkin Smash, which challenges students of all majors to design and build a medieval trebuchet or catapult that will launch and destroy a pumpkin. Last year, the winning team hurled a pumpkin 700 feet. The engineering celebration will include engaging activities, hands-on workshops and a Formula One racecar built by students.
Attendees are encouraged to have fun, dress in costume and network with their peers. Free food, drinks and t-shirts will be available while supplies last. Engineering student organizations will provide food and drinks for sale to support their campus activities.
The COE Student Council is a nonprofit organization dedicated to uniting and advancing collaboration between UTSA engineering students and society. The council provides guidance to UTSA engineering students to increase their participation in UTSA campus life, activities and events, and to show others that engineering goes beyond just math and science. It also gives UTSA engineering students the opportunity to apply what they have learned in the classroom to real-world situations.
For more information, contact Brandy Alger, coordinator for engineering outreach, at 210-458-5069.