Wells Fargo $75K gift to fund UTSA Honors College scholarship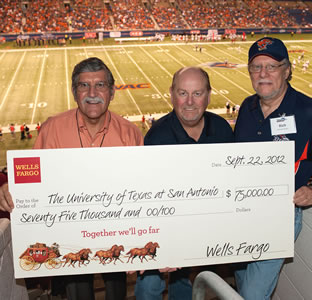 Share this Story
(Nov. 15, 2012) -- Wells Fargo has committed $75,000 for an endowed honors scholarship at The University of Texas at San Antonio (UTSA). The gift continues Wells Fargo's support of UTSA scholarships as part of the university's drive to fund access to excellence through We Are UTSA -- A Top-Tier Campaign.
"We are grateful to Wells Fargo for this generous commitment to endow a scholarship that will benefit high-achieving students in our Honors College," said Marjie French, UTSA vice president for external relations. "This gift says a great deal about Wells Fargo's continued commitment to ensure our community thrives through education."
"Our partnership with UTSA is mutually beneficial, and we're honored to support their efforts in our community. Companies, large and small, rely on education to produce future employees who can read and prepare reports, speak languages to serve an increasingly diverse customer base, and perform the complex math and science functions needed in a high-tech economy," said Steve Arnold, San Antonio area president of Wells Fargo. "Wells Fargo's long history with UTSA is important because without a skilled work force, our communities, our customers and our companies suffer. In short, without quality education, corporate America has no future."
The recipient of the scholarship will be a student enrolled in the Honors College who maintains at least a 3.25 G.P.A. The UTSA Honors College provides a unique educational experience for academically talented students with a commitment to excellence. The Honors College is open to students from all academic disciplines and enrolled about 900 students during the 2012 spring semester.
Wells Fargo (NYSE: WFC) has locations throughout San Antonio and South Texas. The company is a nationwide, diversified, community-based financial services company with $1.3 trillion in assets. Founded in 1852 and headquartered in San Francisco, Wells Fargo provides banking, insurance, investments, and mortgage, consumer and commercial financing. Wells Fargo's vision is to satisfy all customers' financial needs and help them succeed financially.