UTSA kinesiology scholar named lecture series speaker by sports medicine group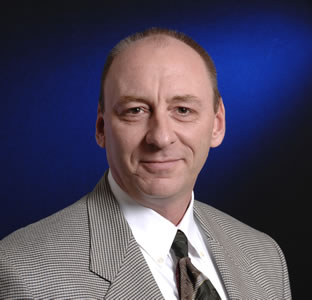 Share this Story
(Nov. 27, 2012) -- William Cooke, professor of health and kinesiology in the UTSA College of Education and Human Development, was selected to serve as the speaker of the Texas Chapter of the American College of Sports Medicine (ACSM) 2013 Lecture Tour. Over the course of a week, Cooke will deliver lectures at a series of Texas educational institutions on behalf of the Texas chapter of ACSM.
"This is a big honor for both Bill and our department," said Wan Yao, associate professor and chair of the UTSA Department of Health and Kinesiology. "In the past, most if not all of the lecturers were by scholars from the big-dog Texas universities. Now, UTSA is becoming a big dog because of the hard and productive work from outstanding faculty like Bill."
Cooke studies the regulation of the human cardiovascular system, focusing on how autonomic mechanisms control heart rate, arterial pressure and cerebral blood flow. His research has applications to general physiology, spaceflight physiology, exercise physiology and battlefield medicine. His research has been funded by the National Institutes of Health, NASA, the American Heart Association and the Department of Defense.
The physiologist received his bachelor's and master's degrees in human performance from the University of Houston, Clear Lake, and he earned his doctorate in kinesiology and exercise physiology from Texas A&M University, College Station. He completed post-doctoral training in the Department of Internal Medicine Division of Cardiology at the Medical College of Virginia at Virginia Commonwealth University.
The Texas chapter of the ACSM is the local arm of a national scientific society that promotes scientific and clinical knowledge in the fields related to sports and exercise. Each year, the chapter hosts a spring lecture tour, presenting one distinguished speaker to visit and connect with students and faculty at multiple Texas universities.
The Texas universities choose one of several lecture topics proposed by the lecturer. Cooke's topics are "Humans Under Pressure: Studies of Autonomic Cardiovascular Control with Applications to Traumatic Injury" and "Cerebrovascular Control During Exercise, Orthostasis and Dehydration: The TACSM Connection."