UTSA master's student wins communication award in national competition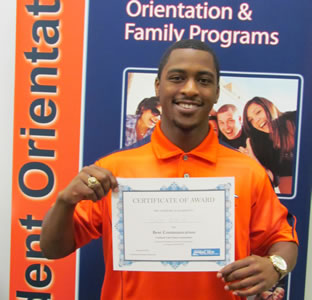 Share this Story
(Dec. 20, 2012) -- Curtis Wilkins, a graduate student intern in the UTSA Office of Orientation and Family Programs, recently won the Graduate Student Case Study Competition at the National Orientation Directors Association (NODA) annual conference in Las Vegas.
Curtis and his partner won the Best Communication award for their proposed problem-solving recommendations and steps for a case they were assigned. In the spring, Wilkins will begin his last semester in the UTSA higher education administration master's program in the College of Education and Human Development.
Each year at the NODA conference, graduate students participate in the case study competition. Each student partners with another student to collaborate on methods and strategies to solve a problem outlined in a case or scenario assigned to them. The two-member teams present their solutions to a panel of judges, and awards are given to the most outstanding groups. This year, 25 groups participated.
According to the judges, Wilkins and his partner had a presentation that was well developed and effectively communicated their ideas. "You both were well spoken and played off one another well. We liked that you didn't rely on notes during the presentation. You were confident presenters, and your time was used appropriately to make the points you needed to make," said the judges.