UTSA Student Leadership Center hosts leadership storytelling luncheon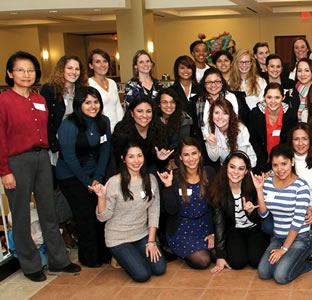 Share this Story
(Dec. 17, 2012) -- The UTSA Student Leadership Center recently hosted the Storytelling Series Luncheon with the theme, "Women in Engineering." The event presented each semester brings together students, faculty and staff in a casual atmosphere where they can share leadership ideas, experiences and challenges.
This semester, the Student Leadership Center collaborated with the UTSA College of Engineering (COE) and the Boeing Co. for a special version of the luncheon for women in engineering. Inspired by electrical engineering student Justina Williams, her idea for the luncheon was to center discussion on topics particularly pertaining to women in leadership as well as the impact of women on the field of engineering.
The luncheon opened with comments from Mauli Agrawal, dean of the UTSA College of Engineering; James Rollen of Boeing; and Williams.
"As I get closer to graduation, I've reflected on my leadership journey and the legacy I want to leave behind," said Williams. "I want to live in a world where women are not the minority in the field of engineering. I want to be part of society that tells and demonstrates to little girls that you can play with Barbies and build bridges. I want to come back to a Storytelling Series Luncheon when I am an alumna and tell future Roadrunners it was at this event we came up with the idea of a women's academy for engineers."
Participants included a diverse mix of students and women working in the field of engineering. More than 40 female UTSA engineering students shared their leadership stories. Student facilitators guided table discussions on leadership styles, qualities and experiences. The facilitators included Adebisi Adeniji-Adele, Kathryn Burns, Jessica George, Aspen Meineke, Katherine Schwille, Christian Trevino, Justina Williams, Brandy Alger, Martha Wright and Ta'mara Williams.
Guests who shared their engineering expertise included:
Teresa Anderson, engineering manager, Boeing Co.
Rena Bizios, UTSA professor of biomedical engineering
Jacqueline Garza, proposal coordinator, Zachry Holdings Inc.
Ruyan Guo, UTSA engineering professor
Kara J. Heasley, project manager, Vickrey and Associates
Mariya D. Kret, engineer, Vickrey and Associates
Laura A. Lozano, strategic director of border communications, Motorola Solutions
Keisha McKinnie, project engineer, Pape-Dawson Consulting Engineers
Kim Pham, O'Connell Robertson
Heather Shipley, UTSA assistant professor of civil and environmental engineering
Cara Tackett, civil and environmental engineer and vice president for land development, Pape-Dawson Consulting Engineers
Elizabeth Teran-Delgado, underground engineer, CPS Energy
Brittney D. Thomas, manufacturing engineer, Boeing Co.
Shauna L. Weaver, vice president for land development, Pape-Dawson Consulting Engineers
Allison Cochrane, vice president for enterprise strategic development, Zachry Holdings Inc.
James Rollen, project manager for maintenance, modifications and upgrades, Division of Global Services and Support, Boeing Defense, Space and Security
-------------------------------
The next Storytelling Series Luncheon will be in the spring semester. To attend, email Jana Schwartz. For more information on this and other programs, visit the UTSA Student Leadership Center website or go to University Center Room 1.002, Main Campus.