Coming together to give back: Student Affairs staff and students adopt families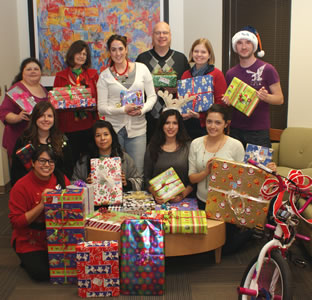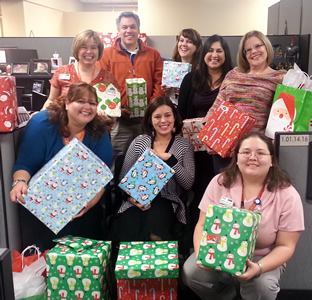 Share this Story
(Jan. 8, 2013) -- This holiday season, 18 offices across the UTSA Division of Student Affairs and 12 student organizations adopted 25 senior citizens and 27 families through the Family Service Association Adopt-a-Family program.
Volunteers packed cars and trucks with wrapped gifts ranging from sheets and kitchen supplies to bikes and games and delivered the gifts Dec. 11 and 18. The Family Service Association coordinated the adoption of 750 families in our community this year, and UTSA was one of the biggest adopters in the entire program.
Families are selected to participate, and most are very low-income and often had experienced job loss, death in the family or medical emergencies this year.
This was the fifth year of the UTSA Student Affairs participation in the program, and each office and student organization puts its own tradition into the service project. In some offices, each staff member adopted one family member and shopped for the needs and wants of that individual. Other groups had a gift-wrapping party as a part of their holiday celebration, and many offices donate canned goods and gently used clothing in addition to new gifts.
This year, Athletics inspired individuals outside the university to assist with the effort when they purchased a new mattress for a senior in need. Deby Bailey, athletics business manager, set out to find an affordable mattress and ran into dead ends when prices were too high. She finally went to Factory Mattress on De Zavala, met a great sales person and found what she was looking for. Before checking out, the salesman disappeared and returned with $25 of his own money to contribute to the effort; he later called to let Bailey know he had told his boss about the sale and the store upgraded the mattress at no cost.
>> To receive a monthly email with volunteer opportunities, email volunteer@utsa.edu or visit the UTSA Volunteer Services website.
>> Learn more about the Family Service Association and Adopt-a-Family.