March 8 deadline: Apply now for 2013 UTSA Student Volunteer of Year Award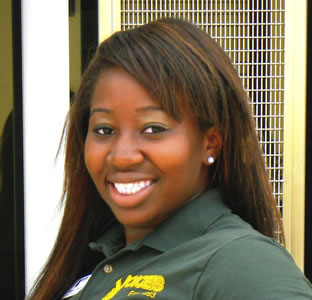 Share this Story
(Feb. 28, 2013) -- UTSA students can apply now for the 2013 Student Volunteer of the Year Award. The award honors an outstanding student for his or her time, effort and commitment to volunteerism and enhancing civic life in the community. The application deadline is 5 p.m., March 8. Nominations and self-nominations will be considered. The winner will be announced at the University Life Awards on April 4.
>> Apply for the UTSA Volunteer of the Year Award.
Last year's recipient, Janet Oyeteju, encourages students to apply and reflect on the importance service has played in their UTSA experience. Since receiving the award at the 2012 University Life Awards, she said the award opened opportunities for her to work with nonprofits -- something she is very passionate about. Oyeteju also received the $500 Sandra Cisneros scholarship that accompanies the award, and her picture is displayed outside the University Center ballroom on the Main Campus.
Applicant requirements:
Applicants must embody the spirit of civic engagement and volunteerism.
The winner must complete a FAFSA and show eligibility to receive the scholarship. Students do not have to show financial eligibility to be named Student Volunteer of the Year.
Applicants must be enrolled at UTSA and in good standing (financial, discipline and academic) with the university and have at least a 2.75 GPA.
Students cannot be paid for the services they represent on the application.
Students who are or have been associated with national service programs are eligible to apply.
Application forms must be filled out completely to be considered.
For more information about the award or volunteer programs, contact Cristina Dominguez at 210-458-4770, stop by Volunteer Services on the Paseo in University Center Room 1.216 on the Main Campus, or email volunteer@utsa.edu.