UTSA Black History Knowledge Bowl 2013 winning teams announced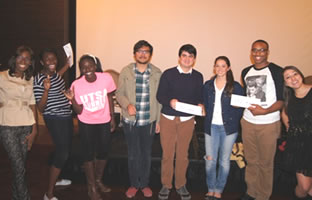 Share this Story
(Feb. 22, 2013) -- As part of Black History Month, UTSA hosted the 2013 Black History Knowledge Bowl on Feb. 26 in the University Center Denman Room (2.01.28) on the UTSA Main Campus. Student teams competed in tests of their knowledge of African-American history. The event fosters UTSA's core values of inclusiveness, collaboration, respect, innovation and excellence.
The first-place winners were Team Troika, who received $1,200. Team members were:
Stephanie Garza
Francisco Martinez
Gabriel Diamante
The second-place winners were Team UTSA, who won $600. Team members were:
Korede Osifuwa
Torrie Jackson
Feyi Osifuwa
The third-place winners were Pro Rec, who received $300. Team members were:
Katerina Davies-Lazarte
Felicia Obregon
Darius Rosebrough
Black History Month is an annual celebration in the United States and other countries to recognize the contributions of African-Americans and their role in history. The celebration, originally a week long, was developed by historian Carter G. Woodson in 1926 to coincide with the birthdays of Abraham Lincoln and Frederick Douglass. In 1976, the federal government expanded the celebration to one month.
The UTSA 2013 Knowledge Bowl is presented by the Black Faculty and Staff Association, the Office of the Provost/Vice President for Academic Affairs, the Office of the Associate Provost for Diversity and Recruitment, Inclusion and Community Engagement Center, Brackenridge Endowed Chair in Literature and Humanities, African-American Studies Program, Consortium for Social Transformation, University Center, UTSA Advising, UTSA Athletics, UTSA Bookstore, UTSA Colleges, UTSA Professor Amir Karimi (Department of Mechanical Engineering) and Ztejas restaurant.