UTSA Child Development Center celebrates decade of childhood education excellence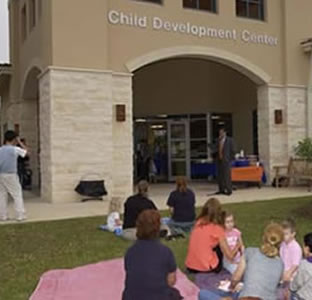 Share this Story
(April 15, 2013) -- The UTSA Child Development Center will celebrate 10 years of excellence in early childhood education this week with a special breakfast, open house and dinner for the UTSA community. A breakfast buffet will be at 9 a.m., Wednesday, April 17 at the front patio of the Child Development Center on the Main Campus. An open house and dinner will be from 5:30 p.m. to 6:30 p.m., Thursday, April 18 in the Child Development Center. Both events are free and open to family members and UTSA staff and faculty, along with former family clients.
"It's never been more important in our society for early childhood education to be a high priority," said Earlene Gonzales, director of the Child Development Center. "The fact that we've been doing this for 10 years is a testament to UTSA's understanding of the impact that high-quality early childhood education makes as a foundation for lifelong learning, as well as creating support services for their parents at the collegiate level."
The center will commemorate its 10th anniversary with a number of activities coinciding with The Week of the Young Child 2013. The weeklong annual celebration is sponsored by the National Association for the Education of Young Children (NAEYC). The world's largest early childhood education association, NAEYC aims to bring focus to the needs of young children and their early care and education.
Gonzales will open the breakfast with a traditional annual reading of the Week of the Young Child proclamation statement. The breakfast buffet will follow at the center's front patio. At 5:30 p.m., Thursday, April 18, the official celebration of the center's 10th anniversary will continue with an open house, dinner and children's activities.
>> Established in spring 2003, the center provides child care and education services for UTSA students, faculty and staff. To learn more or view the wait list and sign-up information, visit the UTSA Child Development Center website or call 210-458-6364.
------------------------------
UTSA Child Development Center 10th anniversary celebration
Monday, April 15
Handprint decorating of a 10th anniversary banner by children in the center throughout the day in the Gross Motor Room.
Tuesday, April 16, 3-4 p.m.
Music and Movement activity -- Outside the center, families of the children are invited to write a note of appreciation for staff on Teaching Staff and Program Staff Appreciation Day.
Friday, April 19
Parents are encouraged to dress their children in UTSA colors to celebrate the Spirit of UTSA.
Saturday, April 20, 10 a.m.-2 p.m.
Parents and children are invited to enjoy free child-centered activities during Kids Day at San Pedro Park.