UTSA's Marcheta Evans receives state Multicultural Leadership Award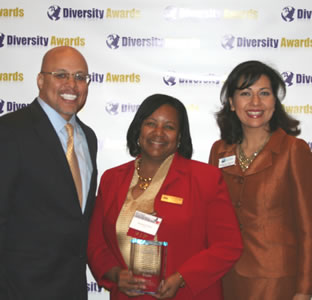 Share this Story
(April 17, 2013) -- Marcheta P. Evans, associate dean of the College of Education and Human Development at the UTSA Downtown Campus, has received the 2013 Multicultural Leadership Award from the Texas branch of the National Diversity Council. She received the award at the Texas Diversity Council's ninth annual Texas Diversity and Leadership Conference.
The National Diversity Council presents the award as part of its goal to uphold and promote the principles of diversity and leadership and to recognize individuals who personify those principles.
As a licensed professional counselor and supervisor, Evans is active in numerous professional associations and has served as president of the American Counseling Association, the Association for Creativity in Counseling, the Alabama Counseling Association, and the Alabama Association for Multicultural Counseling and Development. Additionally, she recently was  inducted as a fellow of the American Counseling Association.
She is current president of the UTSA Black Faculty and Staff Association. Additionally, Evans works extensively with the UTSA Office of Inclusion and Community Engagement and, in conjunction with the Student Leadership Center, developed the curriculum for The Progression: An Exploration of Civil Rights, a bus tour across four states allowing UTSA students to become immersed in the history of the civil rights movement.
Evans has presented more than 100 keynote speeches, workshops and training sessions on issues related to diversity, multiculturalism, leadership and creativity.
UTSA promotes diversity across its campuses with inclusiveness as one of its core values. In the May 2012 edition of The Hispanic Outlook in Higher Education, UTSA was ranked No. 5 in the nation in the number of undergraduate degrees awarded to Hispanic students and No. 12 nationally in the number of master's degrees awarded to Hispanics. Additionally, UTSA is among 27 higher education institutions across the nation honored in 2012 for its commitment to diversity by Minority Access Inc.