UTSA McNair and Stokes scholars attend national research conference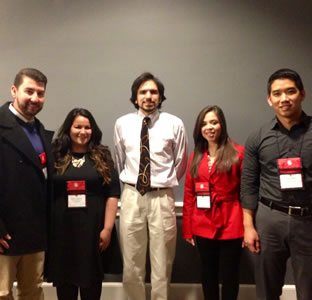 Share this Story
(April 2, 2013) -- During spring break, four UTSA students from the Office of P-20 Initiatives attended the 14th annual University of Maryland National Conference for McNair Scholars and Undergraduate Research. The UTSA students are part of the UTSA McNair Scholars Program and the Louis Stokes Alliance for Minority Participation undergraduate research programs.
Approximately, 250 individuals from more than 40 universities across the country participated in the national conference, where students presented their academic research. The UTSA student participants shared their research experiences and results with their peers and other scholars in their disciplines.
While at the conference, they received feedback from peers and faculty members, and they heard motivational speakers including former NASA Astronaut Major General Charles F. Bolden Jr. They also participated in a graduate school recruitment fair and break-out sessions.
Senior McNair student Jessica Adkison said, "This was my very first time attending a conference and, overall, the experience definitely exceeded my expectations. The speakers at the conference were truly motivating and I was impressed with what they had achieved. I felt so honored and appreciative to be a McNair Scholar."
Senior LSAMP student Debnahi Jacinto said, "My overall experience at the conference has inspired, motivated and encouraged me to pursue my goals. I learned that everyone has their own obstacles to face toward success but to be successful you must have faith in yourself, dedication, courage and never give up."
"I learned that becoming a better person meant that I would work continually at setting my standards higher – to look at every challenge as an opportunity and every opportunity as a means to succeed," said Tony Van Phan, a senior in the LSAMP program.
The Ronald E. McNair Scholars Program and the Louis Stokes Alliance for Minority Participation (LSAMP) are both housed in the UTSA Office of P-20 Initiatives. The programs offer selected sophomores, juniors and seniors opportunities to participate in faculty-led research and assist with preparation for graduate school.
------------------------------
For more information, visit the UTSA P-20 Initiatives website or contact Darrell Balderrama, director of retention programs, at 210-458-4305.