UTSA Institute for Economic Development expands SBDC model to Caribbean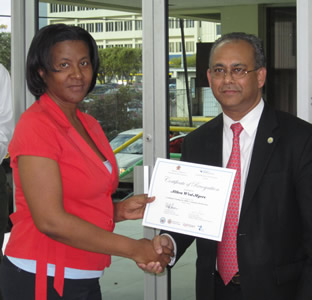 Share this Story
(April 9, 2013) – UTSA began in 2012 to assist five countries in the Caribbean -- Barbados, Belize, Dominica, Jamaica and Saint Lucia -- in adapting the Small Business Development Center (SBDC) model. The goal of the expansion initiative is to create a network of sustainable and successful small business assistance networks based on the proven U.S. Small Business Development Center model.
The expansion initiative is a partnership with the U.S. government through the U.S. Mission to the Organization of American States (OAS); the OAS Department of Economic Development, Trade and Tourism; and the Caribbean Export Development Agency (Caribbean Export).
UTSA is providing expert guidance for each country on:
small to medium-sized enterprises (SME) policy development,
hands-on training to transfer the SBDC model,
training future SBDC professionals,
hosting observational visits to San Antonio,
developing accreditation standards,
creating an association of SBDCs and
conducting in-country SBDC operational improvement visits
The most recent training was completed in Kingston, Jamaica. Jamaica is the second country in the region to complete the training following Belize, where the first SBDC was opened Oct. 31, 2012.
Organization of American States (OAS) Ambassador Albert Ramdin, who was in attendance, said, "OAS member states have long recognized the importance of SMEs as major contributors to employment, growth and innovation."
He noted that small businesses account for 90 percent of jobs and more than 70 percent of gross domestic product in the CARICOM region and that the project was developed in response to the capacity constraints the states face, limiting their productivity, competitiveness and full development.
"By helping further develop and strengthen the capacity of MSME support institutions, they will be capable of providing the specialized counseling, training and mentorship programs that will guide businesses in growing and becoming more competitive," added Ramdin.
The Caribbean SBDC expansion builds on the 35 years of experience afforded by U.S. SBDCs.
The SBDC model centers on providing advising, training and research to assist clients in creating long-term economic impact via job creation and retention, access to capital, increasing sales and establishing international relationships by using trade platforms like SBDCGlobal.com.
The UTSA Institute for Economic Development is dedicated to creating jobs, growing businesses and fostering economic development. Its 12 centers and programs provide professional business advising, technical training, research and strategic planning for entrepreneurs, business owners and community leaders. Its programs serve San Antonio, the Texas-Mexico border area and regional, national and international stakeholders. Together with federal, state and local governments, and private businesses, the institute fosters economic and community development in support of UTSA's community engagement mission.