UTSA's 14th annual Alumni Gala honors community leaders July 27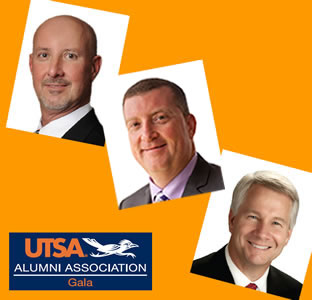 Share this Story
(July 15, 2013) -- Alumni, friends and the San Antonio community are invited to the 14th annual UTSA Alumni Gala at 6:15 p.m., Saturday, July 27 at the Grand Hyatt hotel, where the community's brightest stars will be honored. The event benefits the UTSA Alumni Association Scholarship Fund and the Office of Alumni Programs.
Albert Estrada '83 (B.B.A) will receive the first-ever Lifetime Achievement Award. Jim Bodenstedt '96 (B.B.A.) will receive the Alumnus of the Year Award, and Sam Dawson will receive the Distinguished Service Award.
Fundraising for scholarships at The University of Texas at San Antonio is the cornerstone of the Alumni Association. The group has awarded more than $1 million in scholarships to more than 500 students since 1982 and has built an endowed scholarship fund surpassing $1 million.
A cocktail reception and silent auction will begin at 6:15 p.m., with a seated dinner, awards presentations and live auction at 7:30 p.m., followed by music. Cocktail attire and black-tie optional are suggested for the event.
Tables of 10 are $2,000 and individual tickets are $200. Power drawing tickets are available at three for $50. Visit the UTSA Alumni Association website at utsa.edu/gala to see the silent auction items and purchase event tickets. For more information, call 210-458-4133 or email alumni@utsa.edu.
------------------------------
Alumni Lifetime Achievement Award
Albert Estrada is a 1983 graduate of the UTSA College of Business, earning his B.B.A. in finance. He serves as senior vice president in commercial lending with PlainsCapital Bank, where much of his focus has been on providing banking services to health-care professionals. Estrada has served on the UTSA Alumni Association board for more than 12 years, serving as president from 2002 to 2004. He is a past member of the UTSA College of Liberal and Fine Arts Advisory Council.
For several years, Estrada has generously sponsored an Alumni Association scholarship for a deserving UTSA student. He is the first to receive the association's Lifetime Achievement Award from the Association for his service and support to UTSA and the Alumni Association.
Alumnus of the Year
Jim Bodenstedt, a 1996 UTSA graduate with a B.B.A. in accounting, is the president and CEO of MUY!, one of the largest restaurant private employers in the nation with more than 9,000 employees. MUY! includes Taco Bell, Pizza Hut and Wendy's. He is chair of the Campaign Leadership Committee for the We Are UTSA -- A Top-Tier Campaign that reached its initial goal of $120 million two years ahead of schedule. He established the $1 million Bodenstedt Chair for the Dean of the College of Business in 2012. In 2009, Bodenstedt committed $1 million to athletics scholarships to help establish the football program.
Additionally, Bodenstedt has been a strong supporter of the UTSA Alumni Association by generously donating to the scholarship fund and the UTSA Alumni Gala. He is a member of the UTSA Development Board and a director of the Roadrunner Foundation supporting UTSA Athletics.
The UTSA Alumni Association established the Alumnus of the Year award in 1980 to recognize alumni who have gained unique distinction through their accomplishments and to focus attention on their achievements. Past recipients of this award include Clay Killinger '83, Nancy Kudla '87, Howard Peak '75 and Ernest Bromley '78,'80.
Distinguished Service Award
Sam Dawson, a San Antonio business leader and CEO of Pape-Dawson Engineers, serves in leadership roles in many organizations such as the Texas Society for Professional Engineers, American Society of Civil Engineers, Real Estate Council of San Antonio, Downtown Rotary Club, Greater San Antonio Chamber and North San Antonio Chamber.
He and his firm have been generous supporters of UTSA programs including athletics, College of Business, College of Engineering, College of Sciences, President's Associates and TexPREP. Dawson has been a member of the UTSA College of Engineering Advisory Council since 2007 and has served as its chair since 2009. He has served on the UTSA Development Board since 2009.
The UTSA Alumni Association established the Distinguished Service Award in 1997 to honor individuals and alumni who have made significant contributions to the UTSA Alumni Association and to UTSA. Past recipients include Doyle Beneby, Steven Q. Lee, Tom Frost and Nelson Wolff.