UTSA students learn in Arizona about leading alternative break projects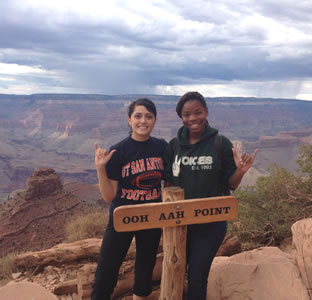 Share this Story
(Aug. 2, 2013) -- UTSA students Leslianne Garcia and Courtney Hunter recently spent a week learning the art of facilitating an alternative break experience from the Alternative Break Citizenship Schools (ABCs). This year, the focus of ABCs was "National Parks: Preservation by the People, for the People," hosted at the Grand Canyon National Park in Arizona.
ABCs consists of weeklong intensive training sessions that combine workshops, discussions, service, reflection and speakers with an alternative break experience. Since 1993, ABCs has been hosted by Break Away: The Alternative Break Connection. At this year's session, the students also participated in conservation and preservation service activities to benefit the park.
Garcia, Hunter and 38 other participants representing 27 universities around the country partnered with the National Park Services Science and Resource Management's Vegetation and Hazard Tree Program. Together, the 40 participants supplemented over $14,000 of work with the nearly 1,400 volunteer hours they provided.
Garcia and Hunter plan the Alternative Spring Break (ASB) program at UTSA through the student organization VOICES (Volunteer Organization Involving Community, Education and Service). ASB is an experiential service-learning experience that empowers and challenges students to understand their relationship with the global community.
Past ASB trips include Atlanta, Oklahoma, Big Bend National Park, New Orleans and Piedras Negras, Mexico. Students have returned to UTSA inspired by the dedication of participants and with the enthusiasm to implement many of the concepts they learned. Some of their new initiatives include adding a winter break trip, adding weekend trips and increasing overall participation in alternative breaks.
-------------------------------
>> This fall, VOICES will celebrate 20 years of service at UTSA. Learn more at the VOICES website.
>> To learn more about alternative break trips or being a faculty-staff adviser, contact Leslianne Garcia at 210-458-7291. Applications for this year's trip will be available September 2013.
>> Learn about volunteer opportunities at the UTSA Volunteer Services website, visit the Volunteer Services office in H-E-B University Center Room 1.216 on the UTSA Main Campus or email volunteer@utsa.edu.