UTSA President's BBQs kick off first day of classes and fall 2013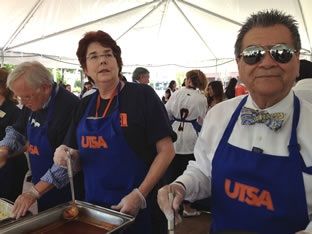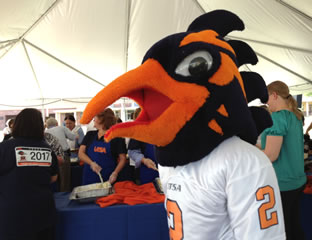 Share this Story
(Aug. 28, 2013) -- Marking the first day of classes for the fall 2013 semester at UTSA, President Ricardo Romo is hosting two annual barbecues at the Downtown and Main campuses.
>> View photo album from the Downtown Campus barbecue on Facebook.
The festivities began at the UTSA Downtown Campus for the President's BBQ on the Plaza from 11 a.m. to 1 p.m. with a free lunch, t-shirts and music for UTSA community members at Bill Miller Plaza. Romo chatted and dined with students, faculty and staff to welcome them to UTSA and bring in the new academic year.
From 5-7 p.m., Romo invites UTSA students, faculty and staff to the President's BBQ on the Lawn at the Main Campus for a dinner at the Convocation Center east lawn. Campus Recreation staff will provide games and recording artist and top 12 "American Idol" contestant Tim Halperin will perform a free concert.