UTSA Roadrunner Days: Connecting new and returning students to campus life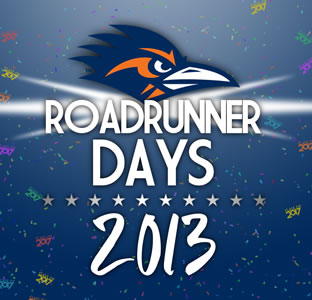 Share this Story
(Aug. 14, 2013) -- UTSA Roadrunner Days is the official kick-off for the new school year, running Aug. 23 to Aug. 30 with a wide selection of free, fun and spirited events to welcome new and returning students with a look at campus life.
"We have designed this year's programming with student input from previous years and really hope it helps the Class of 2017 and our returning students make significant connections," said Barry McKinney, assistant dean of students and director of student activities. "There are some changes to this year's overall schedule that we hope will enhance our students' success in the coming academic year."
Luis Alberto Urrea
, author of "The Devil's Highway," will provide the keynote address for the UTSA Fall Convocation, which will launch weeklong celebrations. Urrea is a best-selling author and member of the Latino Literature Hall of Fame. A 2005 Pulitzer Prize finalist, the book is a non-fiction account of a group of Mexican immigrants lost in the Arizona desert and is the common reading for the Class of 2017.
This year, Fall Convocation and College Experience on Monday, Aug. 26 are mandatory for all new students. New students must attend these events beginning at 10 a.m. and should bring their UTSACard.
Roadrunner Days also will include performances by "American Idol" contestant Tim Halperin and Air Dubai, recording artists from Denver, Colo. Halperin will be featured at the upcoming Kidd's Kids Charity Concert, which was started by the late Kidd Kraddick, the late radio host of "Kidd Kraddick in the Morning." Air Dubai has been Westword magazine's Best Hip-Hop Band for the last three years.
Roadrunner Days events give new students opportunities to preview UTSA campus life, learn about resources to ease the transition to college, experience the excitement of the growing campuses and meet other new students. Returning students can enjoy many of the activities as well and are welcome to participate in these free events. Faculty and staff members also are invited to attend most of the events.