Leadership UTSA announces 2013-2014 class for seven-month course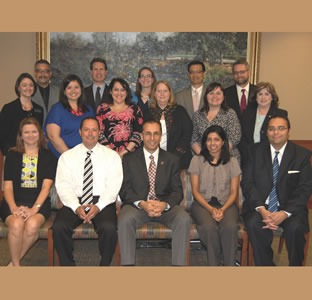 Share this Story
(Sept. 11, 2013) -- On Sept. 20, members of the 2013-2014 class of Leadership UTSA will meet to begin an intensive seven-month leadership course that will help them develop the skills they need to advance in their careers.
Faculty selected to participate in the leadership develop program for the 2013-2014 year will include Mari Cortez (Interdisciplinary Learning and Teaching), Martha Lundell (Biology), Dan Pack (Electrical and Computer Engineering), Hazem Rashed-Ali (Architecture), Mariela Rodriguez (Educational Leadership and Policy Studies), Heather Shipley (Civil and Environmental Engineering), Rebekah Smith (Psychology) and John Warren (Information Systems and Cyber Security).
Staff participants will include Tammy Casas (Registrar), Norma Compean (Disbursements and Travel Services), Erika Cox (Student Financial Aid and Enrollment Services), Clay Haverland (Business Auxiliary Services), Colin Howlett (Athletics), Kristina Leh (University Communications and Marketing), Michael Merada (Facilities), Jessenia Skelton (University Police), Lorrie Smith (Institutional Effectiveness), Tom Tunstall (Institute for Economic Development), Patricia Verdines (Library), Stacy Williams (Research).
Leadership UTSA was established in 2009 by UTSA Provost and Vice President for Academic Affairs John Frederick and then Vice President for Student Affairs Gage Paine with the assistance of Julius Gribou (executive vice provost for international programs), Mansour El-Kikhia (Political Science and Geography), and Barbara Millis (Teaching and Learning Center). In 2011, Cie Gee (Registrar), a 2010-2011 alumnus of Leadership UTSA, joined as an ongoing facilitator of the program.
Leadership UTSA aims to help faculty and staff develop leadership skills and institutional perspectives that will position them to pursue leadership positions in academia. Participants are nominated for the program by their respective vice presidential areas.
During Leadership UTSA, participants will reflect on leadership texts, gain a broader understanding of the qualities of successful leaders, reflect on their own leadership skills and learn more about each of UTSA's six vice presidential areas. Additionally, each participant will be paired with a mentor from the UTSA administration for the duration of the program.
The 2013-2014 participants also will be mentored by four graduates from the 2012-2013 cohort: Sabina Kapoor (Tomas Rivera Center), Joseph Kulhanek (P-20 Initiatives), Misty Sailors (Interdisciplinary Learning and Teaching) and Jamie Trevino (Admissions).
UTSA Assistant Director of Annual Giving Genevieve Lopez and UTSA Department of Public Administration Professor and Chair Christopher Reddick participated in Leadership UTSA last year.
"My first day of Leadership UTSA was my first day back from maternity leave. It was a time of immense personal and professional change," said Lopez. "When I started the program, I felt hesitant about change, and I thought I needed to be at a higher level to influence others. Now, I understand how to embrace change, and I understand that UTSA is made up of leaders at all levels. We all have an opportunity to make meaningful contributions that move UTSA forward."
"Leadership UTSA taught me that to be an effective leader, you must be a good listener. It also taught me that effective leaders must embrace change to create opportunities that advance the organization," added Reddick. "The program has also given me a much broader understanding of UTSA's organizational structure, and it's helped me grow my university network. Most importantly, it's reaffirmed my desire to serve as a UTSA leader."
The 2013-2014 Leadership UTSA cohort will meet monthly from September 2013 to April 2014. Various leadership styles will be explored through specific lenses such as strategic planning, relationships, decision making and communication.