UTSA Student Health Services hosts Rowdy Wellness Day, Downtown Campus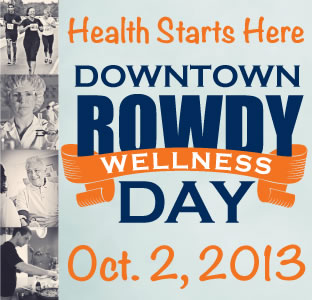 Share this Story
(Sept. 25, 2013) -- UTSA Student Health Services and groups across the UTSA campuses will present Rowdy Wellness Day at the Downtown Campus from 10 a.m. to 2 p.m., Wednesday, Oct. 2. A health expo will feature health screenings, wellness activities and educational seminars on improving one's health. The free event is open to students, faculty and staff.
By screening for health issues, encouraging use of the Campus Recreation facilities and educating participants on healthier lifestyle choices, Wellness Day will help Downtown Campus Roadrunners to become healthier and more active.
>> Download a flier for Rowdy Wellness Day, Downtown Campus.
------------------------------
Rowdy Wellness Day at the Downtown Campus
Health Screenings -- Frio Street Building Multipurpose Room (1.402), 10 a.m.-2 p.m.
Screenings for glucose, flexibility, blood pressure, cholesterol, HIV, dental issues, kidney health, depression and stress
Participants can donate blood through South Texas Blood and Tissue Center
Health Information Fair -- Frio Street Building Commons, 10 a.m.-2 p.m.
Featuring 26 UTSA departments and community partners including Academic Health Plans, ALS Association, American Red Cross, Any Baby Can, Arthritis Foundation, Family Violence Prevention Services, Komen, Lupus Foundation, MADD, Spina Bifida Texas, Rape Crisis Center, UTSA Human Resources and UTSA Disability Services
Presentations -- Buena Vista Street Building Room 1.332
Fitness Anywhere, 10:30 a.m.-noon
Stress Management, 12:30-2 p.m.
Body Composition Analysis -- Campus Recreation, Durango Building Room 3.302
Rowdy New U and Campus Recreation team up to give participants a look at what their weight and body composition says about their health
Campus Recreation Open -- Durango Building Room 3.302
Rec Center will be open and free all day, 6:30 a.m.-9 p.m., for all students, faculty and staff
>> For more information, visit the UTSA Rowdy Wellness website and like them on Facebook, or call UTSA Student Health Services Health Education at 210-458-6428 or email SHSHealthEducation@utsa.edu.
------------------------------
Rowdy Wellness Day at the Downtown Campus is made possible through the collaboration of ARAMARK, Environmental Health Safety and Risk Management, SECC Presidential Advisory Committee, Campus Recreation, Human Resources Benefits Office, Student Health Services, Counseling Services and Rowdy New U.
This program is endorsed by the Mayor's Fitness Council.