UTSA and Inter-American Development Bank delegation discuss SBDC model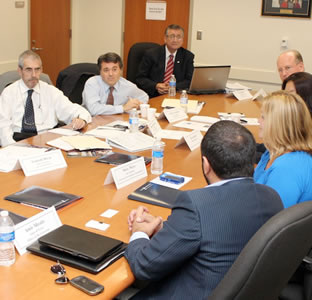 Share this Story
(Oct. 11, 2013) -- The International Trade Center at the UTSA Institute for Economic Development hosted a three-day visit this week by delegates representing the Inter-American Development Bank. The visit was an opportunity to demonstrate the work that the institute and its centers are doing to create economic impact in Texas and internationally.
There was particular focus on Small Business Development Center (SBDC) expansion projects in which the International Trade Center has been engaged since 2003. Through the SBDCGlobal program, the aim is to establish SBDC networks throughout the Americas and North Africa.
Since 1979, the UTSA Institute for Economic Development has hosted various economic development programs as well as SBDCs that provide training, business advising services and research to businesses to create economic impact in the region.
These SBDCs are part of a network established throughout the United States by the federal government in partnership with state governments, universities and colleges to assist entrepreneurs and business owners in establishing and growing their businesses through free, confidential advising services. Services include, among others, feasibility studies, business strategy, financial planning, marketing, production and professional networking.
Established in 1959, the Inter-American Development Bank is the leading source of development financing for Latin America and the Caribbean. It provides grants, technical assistance and research for shareholders from 48 member countries including 26 Latin American and Caribbean borrowing members, who have a majority ownership in the Inter-American Development Bank.
The goal of the visit was to gain Inter-American Development Bank support for the SBDC model expansion. Financial assistance to Latin American and Caribbean governments with help launch their national SBDC networks. The funding will structure and their centers and make the networks sustainable long-term.
Robert McKinley, UTSA associate vice president for economic development, and Al Salgado, South-West Texas Border SBDC network director, led the visit. Delegates from the Inter-American Development Bank included Juan Jose Llisterri, Gustavo Crespi, Gabriel Casaburi and Gonzalo Rivas. Presentations by center directors, staff and guests from the governor's office and stakeholders from the U.S. SBA helped illuminate the value proposition of the SBDC model and the plan to develop more U.S.-modeled networks abroad.
The UTSA International Trade Center is one of the largest and most successful trade assistance organizations in Texas. It helps companies become globally competitive through technical trade consulting, customized market research and innovative training programs. The center is a specialty SBDC program in the South-West Texas Border SBDC Network. Follow the center on Twitter (@TexasTrade) and like them on Facebook.
>> For more information about the project, visit the SBDCGlobal website.