Remember to fall back: Daylight Saving Time ends at 2 a.m., Sunday, Nov. 3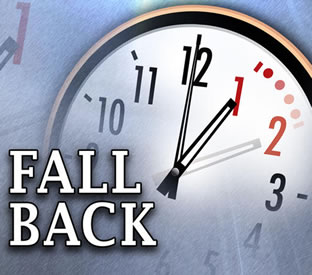 Share this Story
(Oct. 29, 2013) -- At 2 a.m., Sunday, Nov. 3, clocks will be set back by one hour with the end of Daylight Saving Time (DST) this year.
UTSA employees working during the change to standard time will receive credit for nine hours worked for that completed shift and should be reflected on the employee time record.
Work adjustments within the seven-day work week can be made by department supervisors to prevent the accrual of overtime or state compensatory time hours.
For more information, contact UTSA Human Resources at 210-458-7891.
------------------------------
Effect of time shift
For some, the shift of one hour of daylight from the evening to the morning requires only minor adjustment, but for others the adjustment period can take weeks.
Because the body's inner clock (circadian rhythms) is abruptly unable to sync up with its external environment, it can result in fatigue, sleeplessness, irritability and other discomforts.
On the flip side, some experts believe that DST can actually help alleviate depression because people must get up earlier when the time changes.