Extreme Makeover UTSA Edition: Students help beautify the university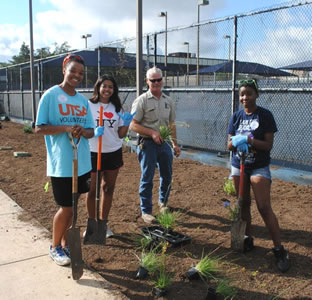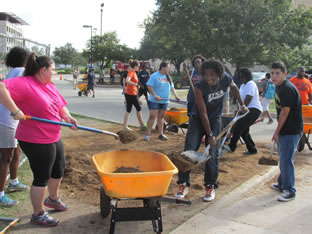 Share this Story
(Oct. 8, 2013) -- Two hundred and seventy UTSA students participated in a variety of collaborative projects to beautify the UTSA Main Campus on Friday, Oct. 4. This year's projects included litter pick-up around campus, gardening and mulching beds adjacent to the tennis courts, and creating a granite pathway and bike rack space near the University Center, among other projects.
The event was coordinated by the Inclusion and Community Engagement Center Volunteer Services office with collaboration from UTSA grounds, facilities, parking and housing departments. Facilities and grounds staff members worked hard to plan projects for the students that would be noticed by the UTSA community. The sponsored student organization VOICES (Volunteer Organization Involving Community, Education and Service) supplied more than half the volunteers and 31 other student organizations were represented at the event.
Jerome Scott, Student Government Association secretary, participated in a project to clean the H-E-B University Center windows and said, "Extreme Makeover: UTSA Edition was an event that greatly contributed to the beautification of our campus. It is important for students to participate in projects like this because we need to understand that we are responsible for ensuring that our campus is physically appealing for ourselves and for guests that come on campus."
The purpose event helps UTSA students connect with the institution and also learn about the behind-the-scenes employees who work diligently to keep the campus clean on a daily basis. The project planning team included student Kaelie Gonzalez, advisers Cristina Dominguez and Leslianne Garcia, facilities staff members Della Reyes, Frederick Wiedner and John Bray, Environmental Health, Safety and Risk Management staff member Anastacio Alvarez, Housing and Residence Life staff member Amy Fritz, Parking staff member Shelley Deats and several other staff members and student leaders who helped lead projects.
>> View more photos from the event, at the UTSA Student Affairs Facebook page.
------------------------------
This fall, VOICES celebrates 20 years of service at UTSA. Learn more at the VOICES website.
For more information on service activities, visit the UTSA Inclusion and Community Engagement website or go to the Volunteer Services/VOICES office in H-E-B University Center Room 1.216 on the Main Campus, email volunteer@utsa.edu or call 210-458-7291.