UTSA Family Weekend events celebrate parents and families of students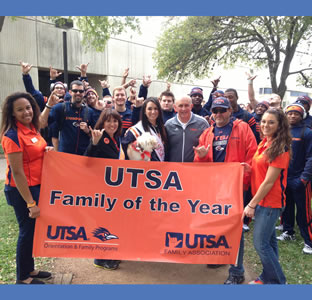 Share this Story
(Nov. 18, 2013) -- The UTSA Office of Orientation and Family Programs hosted the annual Family Weekend event, which celebrates and recognizes families and parents for supporting their UTSA students through their academic careers.
The event proved to be quite a success with Family Weekend packages selling out. The package included the opportunity for families and guests to attend the Rowdy Rally, participate in the Family Fiesta, Alumni Tailgate, sit with their students at the UTSA vs. Tulane football game and receive "Proud UTSA Family Member" t-shirts.
Family Fiesta was a new component for the weekend lineup of activities, and it was hosted by the UTSA Family Association and the UTSA Parent Council. The fiesta was at La Margarita Restaurant and Oyster Bar in Market Square and welcomed more than 60 family members and guests. Attendees mixed and mingled with other UTSA parents and members of the Parent Council. There were numerous prizes including football tickets and Family Association gear.
A tradition of every Family Weekend is the showcase of the Family of the Year winners. This year, Orientation and Family Programs and the Family Association awarded Raymond Smith and Mary Smith from Portland, Texas, as the 2013 Family of the Year. The Smith family was nominated by their daughter, Rebecca Smith, who recently was named Ms. UTSA.
As the 2013 winners, the Smith family received a gift basket valued at more than $1,000 including an iPad, a hotel stay and an opportunity to attend the weekend's football game in the Family of the Year Suite. The Smith family also had the pleasure of leading the UTSA football team through the Rowdy Rally and were recognized for their award at the event.
For more information on the UTSA Family Association and UTSA Parent Council, visit the UTSA Family Association website.