UTSA honor students host four lectures Nov. 19-21 on Holocaust and genocide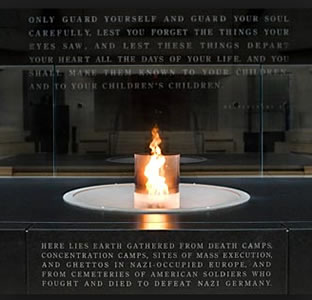 Share this Story
(Nov. 12, 2013) -- UTSA Honors College students completing the honors seminar Holocaust and Genocide will present four lectures to recognize Holocaust Remembrance Week, November 18-22. The lectures, which feature a series of experts in the field, are free and open to the public.
According to Herbert Hirsch in "Genocide and the Politics of Memory," students and scholars investigating genocide must declare their own involvement and take care not to grow so distant from their subjects that they become physically numb, unable to feel the horror that they study. With this in mind, students enrolled in the UTSA Honors College seminar, Holocaust and Modern Genocide, aim to educate their peers and remember the victims of genocide around the world.
The lectures are sponsored by the UTSA Honors College, the Ricardo Romo Distinguished Professorship in the Honors College, UTSA Hillel and Phi Alpha Theta History Honor Society.
To learn more about Holocaust Remembrance Week at UTSA, contact Professor Kolleen Guy at 210-458-4371.
------------------------------
Schedule of events
"One Man Remembers the Holocaust," featuring Holocaust survivor and author William Samelson
Tuesday, Nov. 19
10-11:15 a.m.
UTSA Main Campus, H-E-B University Center Hidalgo Room (2.214)
Samelson will discuss his experience as a Polish Jew who was in various Nazi labor and concentration camps throughout Poland and Germany. He was a member of the partisans at age 13. Captured by the Nazis, he was taken to the Buchenwald concentration camp, where he spent three-and-a-half years. He was liberated by the U.S. Army in April 1945 and emigrated to the United States in 1948.
"Healing a Nation: Rwanda," featuring Rwanda National Congress interim coordinator and author Theogene Rudasingwa
Wednesday, Nov. 20
1-1:50 p.m.
UTSA Main Campus, University Center Pecan Room (2.01.26)
A medical doctor by profession, Rudasingwa is a former diplomat who served in senior leadership positions in Rwanda and represented Rwanda at the United Nations, the World Bank, International Monetary Fund and the African Union. Currently, he is president, CEO and founder of Haradali.org, a social enterprise that promotes the health, livelihood and wellness of women and children in Africa.
"Cambodia: Legacy of Genocide," featuring Sichan Siv, former U.S. ambassador to the United Nations, author of "Golden Bones" and Pol Pot regime survivor
Thursday, Nov. 21
10-11:15 a.m.
UTSA Main Campus, H-E-B University Center Bexar Room (1.102)
Siv holds a master's degree in international affairs from Columbia University. He escaped Cambodia's killing fields in 1976 and was resettled as a refugee in Connecticut. He is the recipient of many honors including the G.H.W. Bush Award for Outstanding Public Service.
"Becoming Evil: Ordinary People and Genocide" by James Waller, Cohen Chair of Holocaust and Genocide Studies at Keene State College
Thursday, Nov. 21
7-8:15 p.m.
UTSA Main Campus, Business Building University Room (2.06.04)
Waller is a widely recognized scholar in the field of Holocaust and genocide studies. His book on perpetrators of genocide, "Becoming Evil: How Ordinary People Commit Genocide and Mass Killing" (Oxford University Press, 2002), has garnered widespread praise. Waller also is the academic programs director with the Auschwitz Institute for Peace and Reconciliation (AIPR) and the curriculum developer and lead instructor for the Raphael Lemkin Seminars for Genocide Prevention.