UTSA Department of Music presents 'Winterlude' holiday concerts Dec. 4-6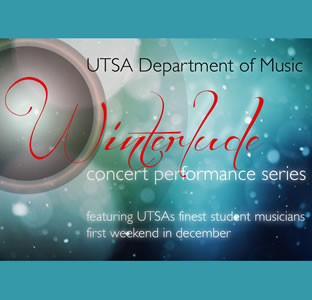 Share this Story
(Nov. 18, 2013) -- The UTSA Department of Music begins the holiday season with "Winterlude 2013," a series of musical concerts featuring UTSA bands and choral and student instrumental ensembles. All three concerts will be at 7:30 p.m. Dec. 4-6 in the Arts Building Recital Hall on the UTSA Main Campus.
UTSA Department of Music faculty members Ron Ellis, John Zarco, Robert Rustowicz and Eugene Dowdy will conduct the groups.
On Wednesday, Dec. 4, the UTSA Spirit of San Antonio Marching Band will perform their "End of Season Spectacular" featuring musical compositions from the 2013 Roadrunner football and performance season.
On Thursday, Dec. 5, the University Band, Symphonic Band and Wind Ensembles will take the stage to present an evening of holiday cheer and seasonal music selections in "'Tis the Season."
The "Winterlude 2013" concert series concludes Friday, Dec. 6 with the UTSA Orchestra and choirs performing Orff's masterpiece, "Carmina Burana." UTSA music department faculty member Megan Rulewicz will choreograph the dance performance.
Tickets to the concerts in the UTSA Arts Building Recital Hall are $10 each and can be purchased at the UTSA Department of Music website.
For more information, contact Cindy Solis at 210-458-5685.
>> Follow the UTSA Department of Music on Twitter (@UTSAmusic) and like it on Facebook (Facebook.com/UTSAMusic).