Mexican Cookbook Collection: UTSA Libraries offers holiday-themed recipes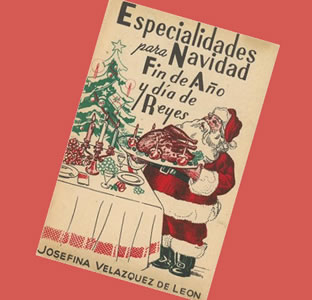 Share this Story
(Dec. 30, 2013) -- Looking for a new holiday recipe? Look no further than the UTSA Mexican Cookbook Collection, one of the largest and most extensive Mexican cookery collections in the United States.
Part of the UTSA Libraries Special Collections, the collection includes more than 1,000 cookbooks in English and Spanish featuring the cuisine of Mexico, Texas and the Southwest from 1789 to 2013.
>> View recipes for Christmas Punch: From early and late 20th century.
Recipes from the collection are posted weekly on La Cocina Histórica, a blog published by UTSA Special Collections celebrating and showcasing Mexican cuisine and culinary history.
This month, the UTSA Libraries staff members have taken turns testing holiday-themed recipes from the collection. Visit La Cocina Histórica to find unique recipes for Ensalada de Navidad (Christmas Salad), Buñuelos (fried dough balls), an apple pecan salad and bread pudding. While you're there you can search through the blog archives to find other recipes such as Ponche de Navidad (Christmas Punch), Mole de Guajolote (Turkey Mole) and many others.
>> Learn more about the Mexican Cookbook Collection and other UTSA Libraries Special Collections at the UTSA Libraries website.