UTSA names Samuel Gonzales vice president for student affairs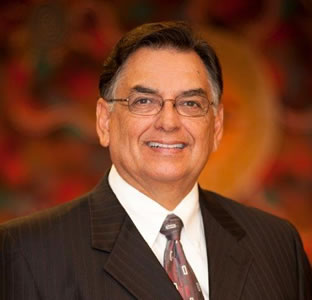 Share this Story
(Dec. 17, 2013) -- University of Texas at San Antonio (UTSA) President Ricardo Romo today announced the appointment of 37-year UTSA veteran Samuel Gonzales as vice president for student affairs. Gonzales has served as interim vice president for student affairs since August 2012 and will assume his duties in the permanent role on Jan. 1, 2014.
As vice president for student affairs, Gonzales will oversee 18 UTSA departments including Admissions, Orientation, Financial Aid, Enrollment Services, Registrar, Student Life, Student Services and Intercollegiate Athletics.
"With nearly four decades of service to UTSA, Sam brings a wealth of institutional knowledge and leadership to Student Affairs," said Romo. "He has a strong understanding of our vision for achieving Tier One status and recognizes the important role Student Affairs plays in achieving this milestone."
While serving as interim vice president for student affairs, Gonzales oversaw several significant university initiatives including the financing and construction of new intramural and football practice fields; completion of San Saba Hall, the university's new 620-bed residence hall; the development of a new enrollment management and recruitment strategy; and the streamlining of operations and services in Student Affairs.
Under Gonzales' leadership, UTSA developed its Distinguished Presidential Scholarship program, a financial aid program that draws top-quartile students to the university.
He also was instrumental in bringing UTSA's 1,000-pound iron Roadrunner statue to campus in partnership with the UTSA Student Government Association and other campus offices.
Gonzales joined UTSA in 1976. Throughout his 37-year career with the university, he has held numerous leadership positions within Student Affairs including director of student financial aid, assistant vice president for student services and associate vice president for student affairs administration and student services.
Additionally, Gonzales has served nationally as the president of the Cooperative Education and Internship Association, regionally as treasurer of the Southwest Association of Colleges and Employers, and locally as president of the San Antonio College and University Placement Association.
Throughout his career, teams under his leadership have been honored with numerous awards and accolades including the AlcoholEDU national award for "Excellence in Prevention Programming," the UTSA Robert S. Howe Excellence in Service to Undergraduate Students Award, the Order of the Roadrunner Award and the UTSA Team Spirit Award.
Gonzales obtained his Master of Education in Psychology and Guidance degree and his Bachelor of Science in Mathematics degree with a minor in psychology from Our Lady of the Lake University. He was a W.K. Kellogg Foundation Fellow in Education Policy with the Institute for Educational Leadership at the University of Texas at Austin.
The UTSA Student Affairs division serves the university by providing purposeful, student-centered programs and services, creating opportunities that facilitate the holistic development of students and developing a culture of engagement in the classroom, across campus and throughout the global community. For more information, visit the UTSA Student Affairs website.
------------------------------
About UTSA
The University of Texas at San Antonio (UTSA) is an emerging Tier One research institution specializing in health, energy, security, sustainability, and human and social development. With nearly 29,000 students, it is the largest university in the San Antonio metropolitan region. UTSA advances knowledge through research and discovery, teaching and learning, community engagement and public service. The university embraces multicultural traditions and serves as a center for intellectual and creative resources as well as a catalyst for socioeconomic development and the commercialization of intellectual property – for Texas, the nation and the world.