Sombrilla Plaza fountain at UTSA Main Campus is back in service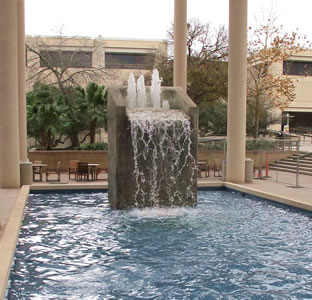 Share this Story
(Jan. 13, 2014) -- The Sombrilla Plaza fountain at the UTSA Main Campus was turned on Friday, Jan. 10 after extensive renovations.
The 35-year-old fountain is now fully sustainable and uses only reclaimed water from the air conditioning systems in neighboring buildings. An idea proposed by students, the revitalized fountain now uses "gray" water, which ensures it can remain operational year round with no strain on the water supply.
In November, the UTSA Development Office conducted the "Fill the Fountain," campaign to support the fountain renovations. The UTSA Alumni Association and the UTSA Green Fund contributed $150,000 for the project. Alumni Nancy Ozuna '93 and Andrew Ozuna '91 pledged a $10,000 matching gift to spur donations. Students, faculty, staff, alumni and other university supporters then raised matching donations of $10,000 to complete the fundraising.
The Sombrilla fountain is a campus tradition and signature venue where many photos are taken. According to legend, if a student puts his or her hands on the fountain, they will pass their final exams with flying colors.
A formal dedication of the refurbished fountain will be in late January or early February.