UTSA Student Government Association announces election results 2014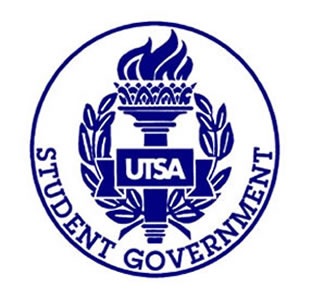 Share this Story
(March 26, 2014) -- The UTSA Student Government Association recently held its spring 2014 elections. The newly elected officers and senators will serve their terms during the 2014-2015 school year. The new administration will be officially sworn in for duty at the SGA Banquet on April 6.
Here are the election results:
President: Zack Dunn
Dunn will continue to serve as SGA president. He also currently holds the titles of Mr. UTSA, Mr. What-A-Man and is the chair of the UT System Student Advisory Committee. At the 2013 University Life Awards, he received the Jane Findling Award, which recognizes students contributions in leadership.
Vice President: Christian Kenney
Kenney is a former Orientation Leader and previously served as the Student Government Association chair of the Student Affairs Committee.
Secretary: Cole Whitmore
Whitmore is a former orientation leader and most recently served SGA as the chair of the Business Affairs Committee. He also is a member of the Honors College and the Student Government dodgeball team.
Treasurer: Ileana Gonzalez
Gonzalez will continue to serve as treasurer, a position she has held since January, when she was the successful candidate in a special election. She also chairs the Finance Committee and was the student coordinator for the 2013 Homecoming Golf Cart Parade.
Chief-of-Staff: Jerome Scott
Scott previously served UTSA as an orientation student coordinator, Student Organization Council president and SGA secretary.
Graduate Senator:
Kort Jackson
Senior Senator:
Christina Phamyu
Jared Cruz-Aedo
Junior Senator:
Lauren Lopez
Elizabeth Ayala
Sophomore Senator:
William Franklin Trynoski III
Alandra Lawrence
College of Education and Human Development:
Shanice Mzaya
University College/Undeclared Senator:
Darius Brown
College of Engineering Senator:
Steven Rodriguez
Patrick O'Donnell
College of Sciences Senator:
Shelby Williams
Omar Thannoun
Uriel Guajardo
Colege of Liberal and Fine Arts Senator:
Jeff Schilder
Savin Weera
Lilian-Ann Bonaparte
Velle Sando
Jessica Pinheiro
College of Public Policy Senator:
Juliam Williams
Conor Harvey
College of Business Senator:
Alexander Barrera
Ahmed Habib
Alejandro Mendoza