UTSA hosts April 24 faculty presentation on legacy of Arab Spring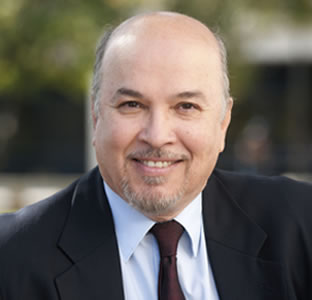 Share this Story
(April 21, 2014) --The UTSA Department of Political Science and Geography will host a presentation, "The Troubled Legacy of the Arab Spring," at 4 p.m., Thursday, April 24 in the H-E-B University Center Hidalgo Room (2.214) on the UTSA Main Campus.
The event will feature presentations by Mansour El-Kikhia, professor and chair of the UTSA Department of Political Science and Geography and Sahar F. Aziz, associate professor of law at the Texas A&M University School of Law.
A native Libyan, El-Kikhia joined UTSA in 1989 and specializes in international relations and comparative politics with emphasis on the Middle East. He has published two books on Libyan politics and human rights, authored more than 200 columns, articles and chapters, and made presentations on international topics all over the world. Additionally, his weekly columns on international issues are published worldwide.
Recognized as a media expert in his field, El-Kikhia has appeared on CNN's "In the Arena," Fox News' "Geraldo at Large," PBS' "News Hour" and "The Tavis Smiley Show," Comedy Central's "The Daily Show" with Jon Stewart and Al Jazeera. El-Kikhia has been interviewed by The Wall Street Journal, The New York Times and USA Today, and also appeared on international broadcasts by Australian, Brazilian, Canadian, German, Italian and Spanish media outlets.
Fluent in several languages, El-Kikhia has testified before the United States Congress, the European Parliament, United Nations specialized committees, and domestic and foreign governmental agencies.
Before joining UTSA, El-Kikhia held positions at the University of California at Riverside and the University of Arizona at Tucson. He received his bachelor of arts in political science from the American University of Beirut and his master's and doctoral degrees in political science from the University of California at Santa Barbara.
Sahar Aziz serves as an associate professor of law and teaches courses in national security, civil rights litigation, national security and race in a post-9/11 America, torts, and Islamic and Middle East law.
Before Texas A&M, Aziz was an adjunct professor at the Georgetown University Law Center and taught courses in national security and civil rights law. She also served as a senior policy adviser for the Office of Civil Rights and Civil Liberties at the Department of Homeland Security, specializing in law and policy at the intersection of national security and civil rights. Aziz began her legal career as an associate at WilmerHale in Washington, D.C., and conducted internal white-collar crime investigations as well as an independent investigation on child trafficking in the Persian Gulf.
She has been featured on CNN, CSPAN, Russia Today and Al Jazeera America. Additionally, her numerous commentaries have been published in The New York Times, CNN.com, Washington Times, Houston Chronicle, Huffington Post and The Guardian.
Aziz received her Juris Doctorate degree and Master of Arts in Middle Eastern Studies degree from the University of Texas at Austin and her Bachelor of Science degree from the University of Texas at Arlington. She is a board member of the Egyptian American Rule of Law Association.
For more information, contact Yadira Gutierrez at 210-458-6706.