UTSA Student Leadership Center hosts Storytelling Series Luncheon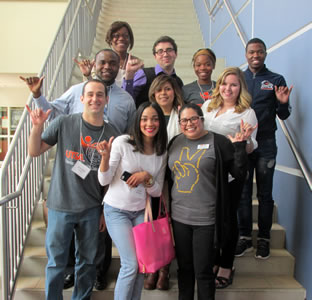 Share this Story
(April 1, 2014) -- The Storytelling Series Luncheon hosted by the UTSA Student Leadership Center each semester brings together UTSA students, faculty, staff and community members in a casual atmosphere where they can connect and share their leadership stories, experiences and challenges.
This semester, the Student Leadership Center invited UTSA alumni to join the conversation with current UTSA students. Many of the alumni were recent graduates excited to return to their beloved campus and share their experiences, advice and how their leadership experiences at UTSA have impacted their new careers.
The luncheon began with a welcome from Yvonne Pena, assistant dean of students and director of the Student Leadership Center and the Student Center for Community Engagement and Inclusion. Participants then watched a TEDTalk by Eunice Hii that focused on life after graduation, following your passion and thoughts on the concept of Generation Y.
This brief video allowed the trained student facilitators to begin conversations surrounding these topics and how they connected to leadership. The student facilitators leading the conversations were Salma Mendez, Vincent Perez, Jennifer Do, Zack Dunn, Carl Willis, Clarissa Johnson, Katrina Parkey, Courtney Hunter and Avery Pfeiffer. They guided discussion on leadership styles, qualities and experiences with a diverse mix of students from various backgrounds, majors and points in their college careers.
UTSA alumni attending included:
Melissa Johnston, region campaign director for school and youth programs, Leukemia and Lymphoma Society
Meg Tompkins, purchasing agent, Labatt Food Service
Charles Miles, UTSA admissions counselor, Houston regional area
Julio Ramos, director of student services, UTSA College of Business Center for Student Professional Development
Leslianne Garcia, graduate assistant, UTSA Student Center for Community Engagement and Inclusion
Corina Aldape, program coordinator, UTSA First-Year Experience program
Derek Bell, complex coordinator, UTSA Housing and Residence Life
Jesus Valadez, copywriter and social media coordinator, Joiner Group
Cristina Dominguez, program coordinator for volunteer services, UTSA Student Center for Community Engagement and Inclusion
Brian Mannas, development assistant, UTSA Office of the Vice President for Student Affairs
The Storytelling Series Luncheon is held each spring and fall. If you would like to attend, email leadership@utsa.edu or call 210-458-7967 for more information.
For more information about programs, visit the UTSA Student Leadership Center website or go to University Center Room 2.01.05 on the Main Campus.