UTSA SBDC welcomes U.S. Rep. Pete Gallego to small-business roundtable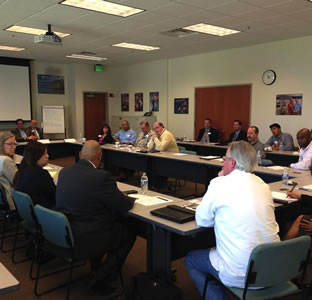 Share this Story
(May 20, 2014) -- The Small Business Development Center in the UTSA Institute for Economic Development recently welcomed U.S. Rep. Pete Gallego to the Downtown Campus for a Small Business Access to Capital roundtable.
"It was a great opportunity for Congressman Gallego to hear about capital needs and the challenges to obtaining capital directly from small business owners in his congressional district," said Morrison Woods, UTSA SBDC director.
The agenda included an open forum on access to capital, an overview of Small Business Administration lending programs and a lender panel. Lenders in attendance included Kenan Pankau, SBA program manager with Randolph-Brooks Federal Credit Union; Elva Adams, vice president of banking business with Wells Fargo; Maitland Rutledge Jr., senior vice president with the Bank of San Antonio; and Joe Pena Jr., market president with Frost Bank.
The roundtable provided information on loan programs available to small business owners and the current lending environment. The discussion with Gallego allowed business owners the opportunity to express their needs for capital.
Among the many items mentioned by small-business participants included the regulatory burdens of doing business, the need for capital for business expansions, the cost of capital to start a business and the documentation requirements for obtaining a loan.
The UTSA SBDC offers integrated services to meet the needs of experienced small-business owners as well as entrepreneurs just starting a business. The SBDC serves San Antonio and the 10 surrounding counties. The experienced staff provides confidential, one-on-one business advising at no charge and an array of training workshops. In 2013, clients assisted by the SBDC obtained $52 million in capital to start or expand their businesses.
Connect with the Institute for Economic Development on the UTSA Economic Development website or on Twitter.
------------------------------
About the IED
The UTSA Institute for Economic Development is dedicated to creating jobs, growing businesses and fostering economic development. Its 12 centers and programs provide professional business advising, technical training, research and strategic planning for entrepreneurs, business owners and community leaders. Programs serve San Antonio and the Texas-Mexico border area as well as regional, national and international stakeholders. Together with federal, state and local governments, and private businesses, the IED fosters economic and community development in support of UTSA's community engagement mission.
About UTSA
The University of Texas at San Antonio (UTSA) is an emerging Tier One research institution specializing in health, energy, security, sustainability, and human and social development. With nearly 30,000 students, it is the largest university in the San Antonio metropolitan region. UTSA advances knowledge through research and discovery, teaching and learning, community engagement and public service. The university embraces multicultural traditions and serves as a center for intellectual and creative resources as well as a catalyst for socioeconomic development and the commercialization of intellectual property -- for Texas, the nation and the world.