Aug. 29 deadline: Apply for Homecoming Court and Mr. and Ms. UTSA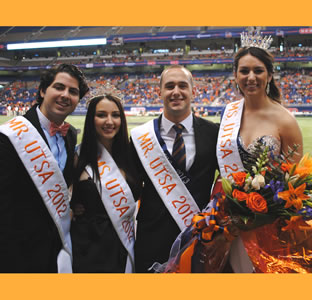 Share this Story
(June 18, 2014) -- Students interested in representing UTSA on campus and in the community are invited to apply for the 2014-2015 Homecoming Court. Mr. and Ms. UTSA will be selected from this group.
Mr. and Ms. UTSA participate in all Homecoming events and make appearances on campus and in the community in support of the university.
The Homecoming Court will be recognized, and Mr. and Ms. UTSA will be crowned during the Homecoming football halftime show Oct. 11. The game is versus Florida International University.
>> Applications are available at the UTSA Alumni website. The deadline to apply is 4 p.m., Friday, Aug. 29.
Candidates must be full-time UTSA students who will not graduate in spring or summer 2015, have a minimum UTSA GPA of 2.75, and have a strong affinity for UTSA spirit, tradition and pride.
Make the most of your college experience -- apply today for Mr. or Ms. UTSA and the Homecoming Court.
------------------------------
For more information, email alumni@utsa.edu.
Connect online with UTSA on Twitter, Facebook, YouTube and Instagram.