UTSA student-athlete earns Conference USA postgraduate scholarship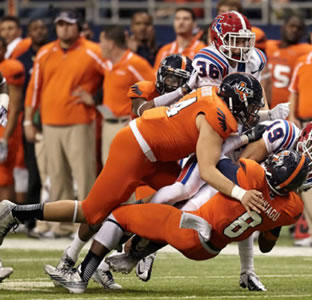 Share this Story
(June 18, 2014) -- Conference USA Commissioner Britton Banowsky named the 15 recipients of the Jim Castañeda Postgraduate Scholarship Awards on Tuesday in Irving, Texas, and UTSA football player Brandon Guerrero was honored.
Now in its sixth year, the award has been named for Dr. Jim Castañeda, who served Rice University for 46 years as an educator, coach and faculty athletics representative before he died in November 2008.
The conference annually presents the $4,000 postgraduate scholarship awards to graduates as selected by the C-USA Faculty Athletics Representatives and approved by the board of directors.
Guerrero lettered two years for the Roadrunners as linebacker after arriving at UTSA from Fullerton College. A sociology major with a minor in communication, he graduated Summa Cum Laude with an overall GPA of 3.96 and a perfect 4.00 within his discipline.
The Lake Elsinore, Calif., native is continuing his studies at UTSA as he works toward a master's degree in sociology. He also hopes to obtain his Ph.D.
------------------------------
For more information, visit the UTSA Athletics website.
Connect online with UTSA on Twitter, Facebook, YouTube and Instagram.
This story was republished courtesy of UTSA Athletics.