UTSA presents exhibit by Dallas artist collective Sour Grapes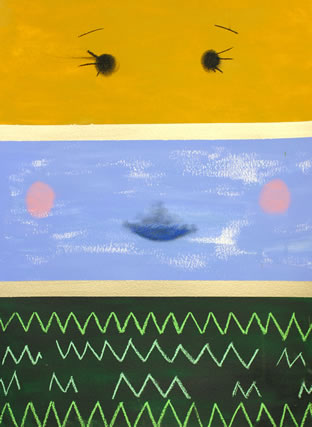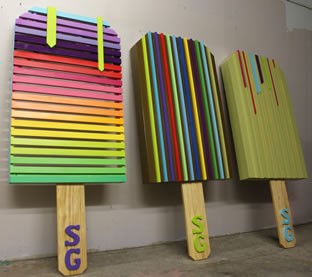 Share this Story
(June 27, 2014) -- The UTSA Department of Art and Art History will present the exhibit "Sour Grapes: From Street to Studio" July 2-30 at the UTSA Arts Building Art Gallery on the Main Campus. Featuring works by members of the Dallas-based collective, Sour Grapes, the exhibition demonstrates the complex negotiations that are the consequence of social, cultural and aesthetic legacies.
Curated by Scott Sherer, associate professor of art history and director of the UTSA Art Gallery and Satellite Space, the show will feature individual and collective work, and a site-specific installation.
>> Free and open to the public, an opening reception is 6-8 p.m., Wednesday, July 2 at the gallery.
The first five members of the now seven-member crew came together in 2000 while students at Sunset High School in the troubled Oak Cliff neighborhood of Dallas. Their work explores Hispanic and Hip-Hop contexts and often integrates themes of popular and commercial culture with attention to the intimacy of family and community relations.
Demonstrating a range of inspiration from Renaissance portraiture to conceptual abstraction and the centuries-long international history of graffiti, Sour Grapes produces murals for public commissions, while individuals pursue independent studio practices. Members are self-taught, while others have some training or advanced degrees and work in academia. Most have full-time jobs outside of the arts.
With the rise in popularity of street art, their work has ranged from adorning the walls of small business owners to Neiman Marcus and the Dallas Contemporary Museum. Members have exhibited across Texas, California and New York. They have gone from teaching children's art workshops in their private studios to teaching workshops at the Modern Art Museum in Fort Worth.
Additionally, members have given talks at community centers, juvenile centers and the Dallas Museum of Art and have been the subject of a feature article in Juxtapoz magazine. One member, Carlo Donjuan, was selected as a New American Paintings Reader's Choice Artist of 2013.
------------------------------
Funds from the Elizabeth Firestone Graham Foundation will contribute to the production of a catalogue that will document the history of the collective. View a slide show of the catalog.
Summer gallery hours are 1-4 p.m., Monday-Friday, and by appointment. Exhibitions are free and open to the public. For more information, contact Laura Crist at 210-458-4391.
Connect online with UTSA on Twitter, Facebook, YouTube and Instagram.