This week: UTSA summer camps on criminal justice, saxophone and archaeology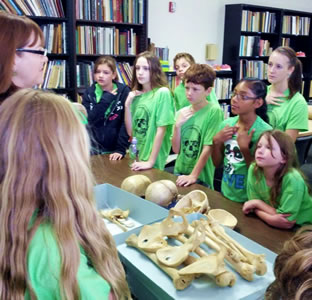 Share this Story
(July 14, 2014) -- UTSA is San Antonio's camp destination with more than 8,500 children and high school students participating in 23 camps over the summer. This week features the Criminal Justice, Saxophone and Archaeology camps. Additionally, there is the Beginning Band Pedagogy Workshop geared to middle-school teachers and instrumental music instructors at all levels.
Camps and academies also include science, technology, engineering, architecture, sports, law, writing and language. The campers expand their horizons through hands-on activities and open their minds to educational and career opportunities. For many, it is their first experience at a top-quality institution of higher education.
Camp highlights for this week:
In the Criminal Justice camp, students will learn about how the American criminal justice system works. They will gain a basic understanding of crime and justice and the roles of police, courts and corrections. After an overview, campers will apply scientific theories in a criminal investigation of a mock crime scene and tour a law enforcement facility.
High school saxophonists entering grades 9-12 with at least two years of playing experience will participate in the Saxophone camp. UTSA saxophone professor Rami El-Farrah and guest faculty member Sunil Gadgil will lead four days of saxophone playing and classes on tone development, technique, etudes, solo literature and instrument repair, as well as small and large saxophone ensembles.
With presentations and hands-on activities, sessions of the Archaeology of Africa camp presented through the Center for Archaeological Research Legacy program will cover the cultural histories of Ancient Egypt, Roman occupations in Africa, the Great Kingdom of Zimbabwe, the Ghana Empire and more.
UTSA Athletics continues camps in baseball, basketball, soccer and softball to help youth develop their skills through practice and friendly competition in a fun and challenging environment.
For music teachers, the five-day Beginning Band Pedagogy workshop will offer hands-on demonstrations of beginning and intermediate concepts for teaching flute, oboe, bassoon, clarinet, saxophone, trumpet, horn, trombone, euphonium, tuba and percussion. Participants will play each of the instruments (at a beginner level), join in demonstrations of how to make great sounds understanding the fundamentals of each instrument, and learn tips to help students develop great playing and performance skills.
------------------------------
For details on availability, registration and more, visit the UTSA Summer Camps website with a listing of all UTSA camps and links to find the one that's just right for you and your child.
Connect online with UTSA on Twitter, Facebook, YouTube and Instagram.
Share your summer camp photos @UTSA #UTSAcamps.