UTSA Football Fan Appreciation Day is Saturday, Aug. 2 at Main Campus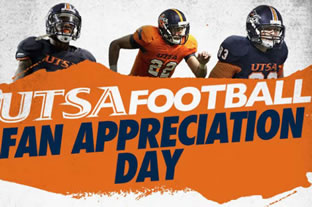 Share this Story
(Aug. 1, 2014) -- UTSA Football will host its annual Fan Appreciation Day from 11 a.m. to noon, Saturday, Aug. 2 at the Convocation Center on the Main Campus. The event is free and open to the public.
Fans will have a chance to meet the players and coaches on this year's team, along with a chance to win prizes. Free food and water will be available.
Attendees can park in any unmarked space in the lots surrounding the Convocation Center.
------------------------------
For more information or to RSVP, email rowdy@utsa.edu or call 210-458-4182.
Connect online with UTSA on Twitter, Facebook, YouTube and Instagram.
This story was republished courtesy of UTSA Athletics.