Pair of Ianno field goals lifts UTSA past FIU on Homecoming, 16-13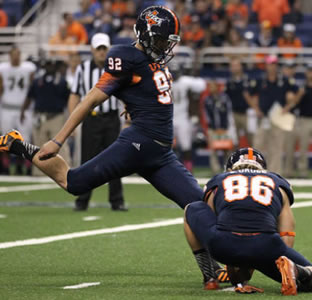 Share this Story
(Oct. 13, 2014) -- UTSA forced five FIU turnovers, including a fumble on a kickoff return that led to Sean Ianno's game-winning field goal with 50 seconds remaining, and the Roadrunners slipped past the Florida International University Panthers, 16-13, on Saturday night in their annual Homecoming game at the Alamodome.
The win snapped a program-record-tying four-game losing streak for UTSA, which saw its record improve to 2-4 overall and 1-1 in Conference USA play. FIU (3-4, 2-1 C-USA) entered the game with a national-leading 21 takeaways, but it was the Roadrunners that took advantage of three fumble recoveries off a school-record six forced fumbles and a pair of interceptions in the first-ever meeting between the two schools.
The total matched the five turnovers the Roadrunners forced against Bacone in the inaugural Homecoming game back in 2011 and was one shy of the school-record six in the season-opening win at Houston on Aug. 29.
The final turnover turned out to play the biggest role in the outcome. After Ianno knotted the score at 13 with a 27-yard field with 1:54 left to play, Duke Wheeler forced and recovered a fumble by Glenn Coleman at the FIU 26 on the ensuing kickoff. The Roadrunners killed clock with three consecutive running plays to set up Ianno from 39 yards out for a chance to claim the lead. The senior from Pflugerville calmly booted his fourth career game-winner with 50 seconds left to give UTSA its first lead of the night, 16-13.
The Panthers then moved the ball to near midfield after a 19-yard pass from Alex McGough to Dominique Rhymes and a 5-yard run by McGough. However, with only nine seconds on the clock, McGough was forced to throw deep and Triston Wade picked off the Hail Mary as time expired to secure the win.
Wade, the senior Jim Thorpe Award candidate, finished with a team-high 11 tackles, one forced fumble and a fumble recovery to go along with his school-record 10th career pick. Fellow senior Robert Singletary added 10 stops, including a school-record 4.5 for loss, three sacks, a UTSA-record two forced fumbles, one pass breakup and a quarterback hurry to help lead a defense that held FIU to 259 yards of offense.
Offensively, quarterback Austin Robinson came off the bench to throw for 144 yards on 14-of-17 passing and the redshirt freshman added 65 yards on the ground. The Houston native entered the game late in the first quarter after Blake Bogenschutz, who made the first start under center by a true freshman in program history, exited with an injury.
FIU jumped out to a 10-0 lead with the benefit of good field position off a pair of turnovers.
Giovani Francois sacked Robinson on third down on his first series of the game and forced a fumble that was recovered by Denzell Perine, who returned it 15 yards to the UTSA 21. That set that stage for a 43-yard field goal by Austin Taylor on the third play of the second stanza.
Later in the second, an FIU punt that was not fielded hit a UTSA player and was recovered by Niko Gonzalez at the UTSA 28. Four plays later, McGough, who threw for 141 yards on 11-of-25 passing, found Jonnu Smith on a 15-yard scoring connection and Taylor's extra point gave the visitors a 10-point cushion.
The Roadrunners responded with a nine-play, 74-yard drive that was highlighted by a 37-yard scamper from Robinson — the team's longest rush of the year — and capped by a 2-yard TD run on an option by Jarveon Williams with 39 ticks left until halftime.
UTSA tied the score at 10-10 on a 42-yard Ianno field goal midway through the third stanza, but FIU reclaimed the lead when Taylor connected from 24 yards out with 11:03 left to play.
The Roadrunners will hit the road next Saturday, Oct. 18, for their third all-time meeting with Louisiana Tech (3-3, 2-0 C-USA). Kickoff is scheduled for 11 a.m. at Joe Alliet Stadium.
--------------------------------
See postgame notes, updated statistics and a photo gallery at the UTSA Football website.
Connect online with UTSA on Twitter, Facebook, YouTube and Instagram.