UTSA biologist named Mentor of the Year by Southern Regional Education Board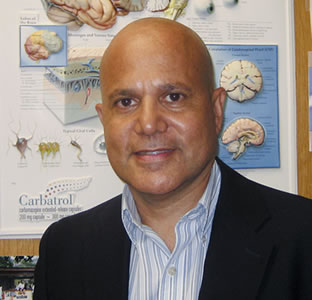 Share this Story
(Dec. 8, 2014) -- Edwin Barea-Rodriguez, professor and chair of the UTSA Department of Biology, recently was honored as the Mentor of the Year by the Southern Regional Education Board (SREB) at a conference in Atlanta. More than 1,300 attended the conference, where the nation's largest gathering of minority doctoral scholars discussed issues facing new and aspiring faculty members.
Barea-Rodriguez was selected for the award after the organization received a nomination letter submitted by Enrique Sosa, a UTSA doctoral student in cell and molecular biology. In the letter read at the conference, Sosa thanked Barea-Rodriguez for his assistance to him and his wife, also a UTSA doctoral student, as they relocated and transitioned into the Ph.D. program.
The circumstances were not easy for the pair, who had one-year-old twins to raise while pursuing their doctoral degrees. Sosa will receive his doctoral degree this month, joining his wife, who already earned her UTSA doctoral degree in cell and molecular biology.
"I was very touched and emotional because it made me realize that these students remember more things than we think," said Barea-Rodriguez. "The life of a doctoral student is not an easy one, and national statistics show us that 47 percent of minority doctoral students fail to complete their doctoral degrees. I remember how hard it was as a student and feel that we as faculty members should always be there to serve our students. That should be our mission."
Making a difference in students' lives is nothing new to Barea-Rodriguez. In 2012, he was one of 40 educators nationwide selected as a Vision and Change Leadership Fellow for the Partnership for Undergraduate Life Sciences Education (PULSE). The fellows identify barriers and consider how to make changes necessary to improve undergraduate life sciences education.
Since 2006, Barea-Rodriguez has led the UTSA Minority Biomedical Research Support (MBRS), Minority Access to Research Center (MARC) and The Alfred P. Sloan Foundation Minority Ph.D. programs. They aim to increase the number and support undergraduate minority students pursuing advanced degrees in biosciences by providing research opportunities, a challenging curriculum and various enrichment activities.
A UTSA College of Sciences faculty member since 1995, Barea-Rodriguez has researched and published in the field of learning and memory, generating more than $16 million in research funding for UTSA. In 2006, he received the Richard S. Howe Excellence in Service to Undergraduate Students Award. Barea-Rodriguez has mentored 27 undergraduates, six master's and four doctoral degree students.
Southern governors and legislators who recognized the link between education and economic vitality established the SREB in 1948. The organization works with 18 member states to improve public education at every level from pre-K to Ph.D. As the nation's first regional compact for education, SREB focuses on the critical issues that hold the promise of improving quality of life by advancing public education.
------------------------------
Learn more at UTSA Department of Biology website.
Connect online with UTSA on Twitter, Facebook, YouTube and Instagram.