ESPN2 to televise UTSA-Arizona State game Sept. 16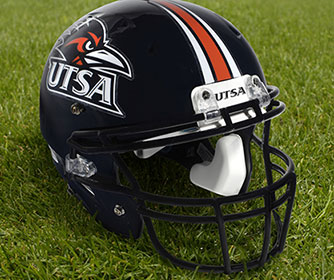 Share this Story
(May 25, 2016) -- ESPN announced Wednesday that it will televise the UTSA-Arizona State football game on Friday, Sept. 16. Kickoff is set for 8:30 p.m. at the Alamodome and it will air on ESPN2.
ESPN reached an agreement with Conference USA for the rights to televise five football games and the C-USA Football Championship Game in 2016 and 2017. The five regular season games for 2016 include three Conference USA schools hosting non-conference games in the early portion of the season and two conference games in the last week of the regular season. The C-USA Football Championship Game is set for Saturday, Dec. 3.
C-USA also announced Wednesday that it has reached a multi-year agreement with three other outlets: CBS Sports Network, the American Sports Network and beIN SPORTS.
CBS Sports Network will continue to provide a variety of marquee C-USA events, airing the 2017 C-USA Men's Basketball Championship title game for the first time, as well as the Women's Basketball Championship game. In addition, CBS Sports Network will carry six football and six men's basketball contests during the regular-season.
American Sports Network (ASN) returns for its third season as a C-USA partner. ASN is a division of Sinclair Networks Group, owned by Sinclair Broadcast Group, Inc., one of the largest and most diversified television broadcasting companies in the country with 173 television stations it owns, operates and/or provides services to in 81 markets, broadcasting 483 channels, including pending transactions. The terms of the agreement guarantees ASN will showcase a minimum of 15 regular-season football games, 13 regular-season men's basketball games and two women's basketball games per season. Furthermore, it has the option to select additional inventory up to 15 football, 42 men's basketball, three women's basketball and 10 Olympic sport events and conference championships. This January, ASN launched a 24/7 channel in nine markets and is currently found within 20 markets.
C-USA becomes the first collegiate conference to partner with beIN SPORTS, a global leader in sports content distribution and the No. 1 growing Nielsen-rated cable network in the United States above all networks. With 45 million subscribers, beIN SPORTS and beIN SPORTS en Español are proud to be the fastest growing independent sports cable network in the business. beIN SPORTS also plans to expand its multiplatform offerings, live programming and studio shows to further cultivate interactivity of fan favorites, in their language of choice, and more fervently reflect their commitment to North American sports fans. The multi-year deal consists of 10 football games, 10 men's and 10 women's basketball games, 12 baseball and 12 softball games, 10 men's and 10 women's soccer matches and ten (10) women's volleyball games.
The complete C-USA football television schedule will be announced next week.
The conference's footprint spans 10 states with 14 member schools, including campuses that are located within nine of the top 50 media markets in the nation, including four in the top 25.
-------------------------------
Republished with permission from UTSA Athletics. Visit GoUTSA.com for more.
Connect online at Facebook, Twitter, YouTube, Instagram and UTSA Today.