UTSA program equips parents with college and career knowledge for their children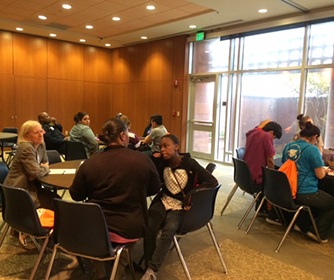 Share this Story
(May 25, 2016) -- Nearly 250 parents from San Antonio and throughout south Texas headed back to school at The University of Texas at San Antonio (UTSA) Downtown Campus. The new knowledge they received at the Institute for P-20 Initiatives Summit on Parent Engagement will help them better prepare their middle school aged children for high school, college and careers.
Parents learned about changes to the Texas state mandated high school graduation plans, as well as exploration of the new House Bill 5 endorsement pathways: STEM; Business & Industry; Public Services, Multidisciplinary and Arts and Humanities. They also interacted with a variety of career professionals representing each endorsement pathway, as well as engage in hands on activities through a career resource fair. Additional sessions included familiarizing students and their families with college, cyber safety and 21st century soft skills.
Parents said they appreciated hearing input from other moms and dads. Students said it helped them realize they need to start thinking about college now.
City representatives, industry experts and firefighters were just a few of the volunteers who spoke to parents.
"The variety of topics covered and having parents with their children around the table asking questions made for a great dynamic," said Joseph Kulhanek, assistant vice president for P-20 Initiatives. "Everyone was there to help accomplish the mission, provide families with college and career knowledge,"
By the end of the P-20 Summit, students and their families had information to help them build a supportive network of parents and professionals. They said they also have a better understanding of higher education opportunities.
The UTSA Institute for P-20 Initiatives provides children from pre-K through college and their families with information to encourage postsecondary education. P-20 works closely with area school districts, developing transition and bridge activities and implementing college readiness policies. It has more than 24 programs currently underway for a variety of age groups.
------------------------------
Lean more about the The Institute for P-20 Initiatives.
Connect online at Facebook, Twitter, YouTube, Instagram and UTSA Today.