Blueprint UTSA details university's next steps toward Tier One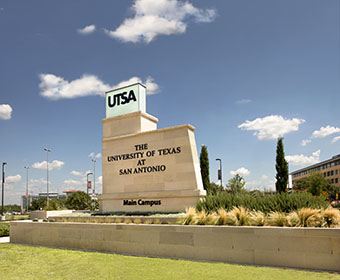 (November 8, 2016) – University of Texas at San Antonio (UTSA) President Ricardo Romo has unveiled Blueprint UTSA, the strategic framework that will guide UTSA as it advances toward Tier One recognition.
Blueprint UTSA is the culmination of more than a year's input from students, faculty, staff, administrators and community leaders. Building on the success of the UTSA 2016 plan, its five goals include:
transforming students into successful scholars, global citizens and leader
creating scholarly work and research that significantly impacts society
enriching the quality of life and economic prosperity of the communities we serve
delivering world-class resources, support and infrastructure commensurate with a Tier One institution
achieving recognition and esteem as a premier research university
President Romo and university leaders have identified 10 initial Blueprint UTSA strategies that are essential first steps that will move the university forward. They emphasize academics, research, resources management and brand.
In academics, UTSA will focus on undergraduate and graduate recruitment and retention. The university will also improve advising, counseling and mentoring for students.
Research will include more cluster hiring of world-class faculty to build on key strengths, further recruitment of exceptional graduate students and greater emphasis on pursuing research grants.
To support Blueprint UTSA's priorities, university leaders will identify and secure new revenue sources, create a new budget model, streamline the processes and improve IT systems. The role of the Downtown Campus will also be aligned more closely to support the university's strategic priorities.
Finally, UTSA will focus on developing a distinct brand to achieve greater recognition and esteem.
Blueprint UTSA will be implemented by creating cross-functional teams led by members of the university's executive team. The teams will develop, plan and execute initial priorities, establish timelines, identify resources and promote collaboration with campus constituencies. They will also initiate action plans based on measurable benchmarks and targets.
"I could never have imagined in 1999 that we would move so quickly or achieve so much," said Romo, after unveiling Blueprint UTSA at his Nov. 7 State of the University address. "We have built the university of the 21st century. UTSA is changing lives."
UTSA is ranked among the top 400 universities in the world and among the top 100 in the nation, according to Times Higher Education.
- Courtney Clevenger
-------------------------------
Learn more about Blueprint UTSA
Watch President Romo's 2016 State of the University address.
Connect with UTSA online at Facebook, Twitter, YouTube and Instagram./p>
Events
Students and alumni of all partnering UT System institutions will have the opportunity to virtually network with employers from across the nation.
Accessible Online
---