UTSA reinforces commitment to DACA students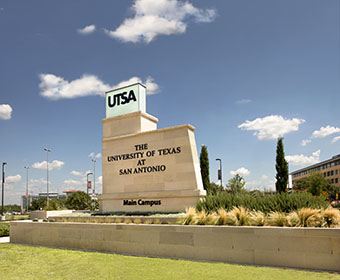 (Jan. 2, 2017) -- UTSA President Ricardo Romo last month met with a group of Deferred Action in Childhood Arrivals (DACA) students and four supporting faculty members to discuss the DACA program, assuring them of a university-wide commitment to the confidentiality of their private information and respectful treatment by faculty, staff and fellow students.
Romo told the students that, in accordance with the Family Educational Rights and Privacy Act (FERPA), the university does not release personal information, which students worry could be used by federal agencies to identify them for deportation action if DACA is ended.
Additionally, Romo said the university maintains a zero tolerance policy on bullying and harassment, and informed the students of procedures for seeking help if they believe they have been subjected to discriminatory behavior.
"It is very important for these students to know that they are embraced at UTSA as much as every other student. They belong here and we value their contributions to our diverse campus community," said Romo.
Vice President for Student Affairs Sam Gonzales, who also attended the meeting, indicated the university's willingness to develop educational programs for faculty, staff and students on tolerance and conflict resolution.
Additionally, university leaders agreed to explore designating specific individuals with a specialized knowledge base within Student Affairs departments such as Undergraduate Admissions, Financial Aid, Counseling Services and other areas to support the unique needs of DACA students.
President Romo, UT System Chancellor William McRaven and presidents of other UT System universities have signed an open letter in support of DACA. Nationwide, more than 500 university leaders have signed the letter.
"Our mission as a university is to foster a safe and welcoming environment in which students can achieve educational excellence and prepare themselves to contribute meaningfully to society," said Romo.
"I am grateful to our campus community for its support and unity with our DACA students, and remain hopeful that our nation's leaders will continue to recognize the value of allowing these students to pursue their education in the United States."
The meeting participants agreed the session was constructive and provided helpful information about UTSA's commitment to DACA students, aligned with the university's values of integrity, inclusiveness and respect.
-------------------------------
Connect with UTSA online at Facebook, Twitter, YouTube and Instagram.